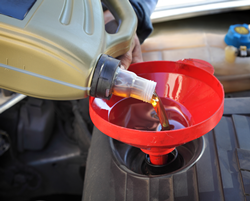 DAYTON, Ohio (PRWEB) March 08, 2019
Drivers who put the miles on their vehicle day after day during the daily commute understand the importance of regular oil changes. Having a vehicle's oil changed at regular intervals helps prevent early and unnecessary damage to critical engine parts and will keep customers driving for miles to come without worry.
Right now at Matt Castrucci Nissan, customers can purchase four oil changes for the price of three when using the coupon found at Castrucci Nissan's website, http://www.mattcastruccinissan.com. The coupon covers four oil changes for only $156 which is a $52 savings off the regular price. This oil change special does, however, exclude the Nissan GT-R and Nissan Titan XD. For more information about the oil change savings or to collect four oil changes for the price of three customers can come right to the service department at Matt Castrucci Nissan located at 3013 Mall Park Drive or they can call 855-299-1946 and speak to a Castrucci Nissan staff member.
Matt Castrucci Nissan also provides a fully encompassing service center that can get customers cars, trucks, and SUVs back on the road again running right in no time flat. Castrucci Nissan may specialize in Nissan vehicles but they can fix all makes and models. So shoppers in search of affordable repair services which include but are not limited to alignment, tire rotation, headlight repair or replacement, tire balance along with brake pads, shoes and calipers can have everything taken care of in one place at Castrucci Nissan. Anything and everything that can be screwed or glued to your vehicle can be fixed by the friendly service center at Matt Castrucci Nissan. Don't wait until this great oil change deal has come and gone and buy your three oil changes at Castrucci Nissan today and get the fourth for free.