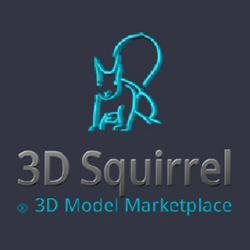 'With the launch of our new website we're delighted to deliver a professional, easy to use and secure place for 3D artists to buy and sell their 3D models online.' - Jonathan Hagan, Managing Director.
London, United Kingdom (PRWEB UK) 28 May 2014
Digital 3D Model Marketplace, 3D Squirrel has announced the launch of its redesigned website http://www.3DSquirrel.co.uk. This new visually enhanced, fully responsive and easy to navigate website enables 3D artists to buy and sell their 3D models in a reliable and secure online store.
To reflect the needs of 3D Squirrel's rapidly expanding international customer base new technological advances have been implemented in order to optimise the website's loading speed across the world. Enhanced security and protection has also been added to every downloadable file, with site-wide encrypted compression and password protection linked to their instant access system for buyers. A useful currency selector has been implemented as well to make sure that their customers are able to browse easily without the need for time-consuming price conversions.
"3D Squirrel's rapidly developing catalogue and popularity amongst the community demanded a comprehensive and expedient response," says Jonathan Hagan, Managing Director, "and with the launch of our new website we're delighted to deliver a professional, easy to use and secure place for 3D artists to buy and sell 3D models online."
As the website is now fully responsive this ensures that the browsing experience remains the same whether using the full width of a desktop computer screen, tablet or mobile device. This additional screen real estate also allows for the display of larger 3D model images and a greater selection per page.
From a 3D model seller's perspective this popular website has had many additional user-friendly features added to ensure that it continues to be an easy and enjoyable place to publish and sell 3D models. 3D Squirrel not only offer their sellers highly competitive royalty rates, allowing them to keep up to 95%, but they also strive to give them all an equal chance of having their work promoted. With the introduction of more of their frequently updated promotional banners, across the whole website, each seller now has an increased opportunity to have their 3D models featured.
As well as an online store the website also has a fully integrated active 3D artists discussion forum, image gallery and show reel displaying page. The recently re-established community challenges have been extremely popular. The latest Military 3D Modelling Competition has attracted a large amount of talented 3D designers who are enjoying sharing their 'work in progress' whilst at the same time learning how to create high quality appealing 3D models to sell in the marketplace.
More information is available in 3D Squirrel's Blog.
About 3D Squirrel Ltd:
3D Squirrel Ltd. (http://www.3DSquirrel.co.uk) was founded in November 2012 by award winning professional 3D Artist and Architect, Jonathan Hagan. The website contains a fully integrated community based online digital 3D model marketplace, discussion forum for 3D artists, image gallery and a show reel showcasing page. With the recent launch of their redesigned website they have added many additional features to ensure that they continue to be a professional, secure and easy to use place to buy and sell quality 3D models online.