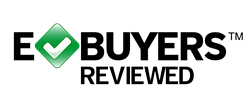 It is a good thing to learn caution from the misfortunes of others. - Publilius Syrus
New York, NY (PRWEB) March 16, 2015
eBuyersReviewed.com, a service designed to help online retailers lower their risk exposure to buyer fraud and return abuse, is adding more users and reviews every day. The company strives to create transparency between buyers and sellers on the Internet by offering sellers the opportunity to submit and exchange reviews of their buyers on a membership restricted online platform.
Immediately after its inception in late 2014, the company added several hundred subscribers who submitted over a thousand reviews, both positive and negative. The most common reason for sellers rating buyers as "high risk" is abusive returns, which account for 80% of all negative reviews, followed by unfair negative feedback, which prompts 74% of all poor buyer reviews. Retailers tend to be quite descriptive in detailing their experiences with problematic buyers, which helps other sellers to protect themselves. Traffic to eBuyersReviewed.com has been increasing steadily, doubling since January 2015. More than 90% of users are from North America and the UK.
Bogdan Miltchev, the company's founder and CEO, is pleased with the progress thus far, saying, "I am excited with the response we have received since our launch. Our immediate objectives are to educate sellers on the benefits of using this service and to increase review submission." In addition to its free basic membership with limited buyer screening features, the company is working on offering an ELITE free membership targeting high volume sellers, which will be introduced in April 2015.
In addition to online retailers, a non-profit association called Cross-border eCommerce, which helps service providers and merchants fight online fraud and improve their profitability, has shown interest in collaborating with eBuyersReviewed.
Management feels that even though preventing buyer fraud is the ultimate goal, sellers can also benefit from submitting positive reviews of their buyers. In addition to receiving a free screening point for any three reviews, positive reviews tend to prompt buyers receiving them to leave positive reviews for the sellers submitting them. It is a win-win situation, which not enough buyers are taking advantage of.
eBuyersReviewed.com continues to reach out to online retailers by expanding its media coverage and direct marketing efforts. Its ultimate goal is to create a symmetry of accountability between buyers and sellers, making the Internet a better place to transact.
Contacts:
> Bogdan Miltchev, President and CEO, eBuyersReviewed.com
(646) 244-5777 | info(at)ebuyersreviewed(dot)com
> Steve Karrer, Account Director, eBuyersReviewed.com
(201) 579-3205 | stevek(at)ebuyersreviewed(dot)com