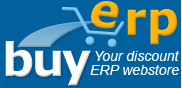 Your discount ERP webstore
Las Vegas, NV (PRWEB) July 27, 2013
BuyERP has announced a new promotion to match and beat the prices of their competitors for any Microsoft Dynamics software. The company has undertaken this new initiative and has hired LAD Solutions in order to help spread the news and to attract new customers.
BuyERP is a provider of software solutions from the Microsoft Dynamics product line such as Dynamics GP, Dynamics NAV, Dynamics SL, and Dynamics CRM. BuyERP has been officially certified as a recognized Microsoft Dynamics Partner and this is why the company has undertaken the initiative to beat out all of their competitors with regards to pricing.
BuyERP has focused their business in order to provide the lowest pricing by cutting down on overhead costs so that they can focus on customers. Customers can also save time and money because the products can be downloaded directly from the BuyERP website after they have made a purchase via the online site.
BuyERP has not specified how long the discounting initiative will last but states that they will continue to work to provide the lowest prices until they have cornered the market and beyond. Despite the fact that there is stiff competition in the area of business ERP software solutions, the company believes that it can continue to remain competitive in this space and there are future plans to expand the range of products being offered by the site.
For BuyERP customers that want to take advantage of the promotion, the company encourages them to call or leave a message on the website about the alternative pricing options for Microsoft Dynamics Partner software that they have found. Once BuyERP receives the information they will review the lower pricing found elsewhere and then offer the customer a deal to either match or beat the competing price. Customers however must have proof that the cheaper pricing from the other site is the current pricing for the products and the customer must also be ready to make the purchase from BuyERP immediately in order to lock in the discount.
For customers placing volume orders, BuyERP has requested that they contact the company to find out exactly how the price match will work. For volume orders, customers must speak with a representative so that any licensing issues or download issues can be discussed before proceeding with the purchase.
As of right now the promotion is active and customers can visit the site and take advantage of the offer today.
About BuyERP: BuyERP has been certified by Microsoft as a Microsoft Gold Certified Partner. The company has partnered with Microsoft in order to provide the complete range of Microsoft Dynamics software to its business customers. The company is based in Las Vegas, Nevada and provides its services via download. To learn more about the products available from the site, visit the company site at http://www.buyerp.com.