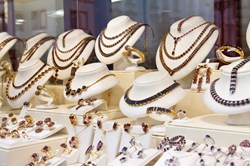 A well-crafted piece will stand the test of time and serve as a constant reminder of true love and affection
New York, NY (PRWEB) February 11, 2014
Nothing says "I love you" quite like a well-selected, sparking piece of jewelry on Valentine's Day. This timeless gift works equally as well for women and men. But, how can shoppers be sure they're selecting a piece that will make their Valentine's heart skip a beat?
ZenithMart's founder, Tochukwu Mbiamnozie, offers some insights that can help men and women alike find the perfect piece of jewelry to express their true feelings.
Why Go with Jewelry?
Jewelry ranks up there with cards, chocolate, flowers and stuffed animals as popular Valentine's gifts. This particular option, however, sends more intimate and profound messages than the typical temporary gifts. A good piece of jewelry will last for decades and is often passed down from generation to generation, representing to the 'forever' concept that every significant other wants.
"Whether it's an engagement ring, a necklace, earrings or even a stylish watch, a fine piece of jewelry is more than a cut above standard Valentine's fare," Mbiamnozie said. "A well-crafted piece will stand the test of time and serve as a constant reminder of true love and affection."
So, how can consumers be sure they're selecting a piece that will not only last, but will be sure to "wow" the recipient?
Here are a few of Mbiamnozie's top recommendations for picking just the right piece of jewelry, no matter the occasion:

Shop for what they like – Taste in jewelry can vary greatly. To make sure a purchase is a great one, Mbiamnozie suggests keeping an eye on a special someone's preferences. If she always wears white gold and platinum, don't pick a yellow gold setting. Should he gravitate toward a certain style of watch or she shows a preference for a particular type of gemstone, take note. When gifts are in line with a recipient's current style, they're going to be pleased.
Pay attention to quality – Even when shopping online, fine craftsmanship will show. Note the style, shine and detail of the work before selecting a piece. If shopping for a watch, pick one made by a trusted watchmaker. Casio, Seiko, Timex and Chronograph, for example, are names consumers know and trust that have proven themselves time and time again.
Cheating is OK – Shoppers who just aren't sure if their significant other would love an emerald ring or sapphire earrings more can always cheat a little when picking out something for Valentine's Day. There's nothing wrong with asking a close relative or friend for their advice to help pick out just the right piece. This can be especially important for big purchases, such as engagement rings, that have to be perfect the first time.
Consumers in the market for high-quality jewelry and watches don't have to run from store to store to find something sweet for their Valentines. ZenithMart invites shoppers to stop by and browse its ever-growing collection of fine jewelry and more. The recently launched online retailer provides customers with a hassle-free experience, competitive pricing and exceptional service.
As part of their dedication to their customers, ZenithMart is giving away any product worth up to $350 to the person who refers the most people to their social media accounts during the month of February during their February Social Media Contest. Entry is free and the more a person shares the ZentihMart social media links, the more chances they have to win. For more information and to enter please visit the ZentihMart website.
Zenith-Mart Inc. - America's No.1 Online Retailer of home and automotive electronics, computers and laptops, office machines and laser printers, jewelry, men's and women's shoes, vacuums, digital cameras, personal care, beauty products, tools and automotive parts & more online.
Founded in April 2012, New York-based ZenithMart provides consumers with a one-stop-shop for office, household and personal merchandise. The company strongly believes in delivering high-quality products, competitive prices and unparalleled customer support. Since its inception, ZenithMart has grown by leaps and bounds thanks to the seamless and convenient customer experience it creates. The company's overriding mission is to provide consumers with the kind of quality and service that earns loyalty for life. For more information, please visit http://www.zenithmart.us.