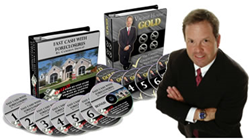 I have everything I need to find and flip foreclosures all in one program.
Campbell, NY (PRWEB) May 15, 2014
Over the last several years the housing market has caused a lot of real estate businesses to fail. One of the most profitable investments in this real estate market is foreclosures and Cameron Dunlap, a seasoned investing professional of over 20 years has come up with a new training program that teaches the most effective techniques for buying foreclosed homes in this market.
In Dunlap's new training, called No Fee Funding, he goes over the many aspects of investing in foreclosures including how to find cash end buyers, how to automate and manage an entire real estate business, and how to avoid violating the Dodd-Frank Act.
This training not only provides the training investors need, but it also provides transactional funding for up to 30 day transactions. The great thing about this new program is that there are no fees or points on same and next day transactions and investors have access to up to $600,000 dollars for each transaction, too.
In order to make an offer on a property, every investor will need a proof of funds letter. Cameron provides No Fee Funding members with access to an unlimited number of Proof Of Funds letters and if necessary, he will back up those letters with hi sown personal bank statements.
Along with training, proof of funds and funding, investors also get access to three of Cameron's software platforms for 90 days free of charge. The three programs are Cameron's Inner Circle, the Cash Buyer Data Feed, and iFlip. These three programs will help investors find buyers, get the support needed, and automate all aspects of a real estate business.
Curtis, a new No Fee Funding member, had this to say about the program, "I have everything I need to find and flip foreclosures all in one program. Not only that, but the support you get from Cameron and his team is incredible. His funding department makes sure everything is lined up and ready to go so your deal doesn't fall through."
There is no other training and funding program out there like No Fee Funding. Investors will have all of the training, funding, resources, and tools needed when buying foreclosed homes in this market.
To learn more about how to easily profit from foreclosures, visit http://www.NoFeeFunding.com/replay and watch Cameron's webinar training on No Fee Funding today.