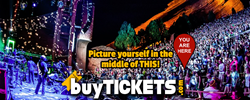 Find the seats you want at buyTickets.com
Denver, Colorado (PRWEB) November 30, 2015
buyTickets.com is proud to present a promo code for every Red Rocks event this summer to fans who want to save as much money as possible on seats. When concertgoers use a promo code for Red Rocks concert tickets, they can be assured of getting the best prices for their seats buy using Promo Code = REDROCKS .
Start making plans now, the Red Rocks Amphitheater calendar is filling up quickly with some of the most in-demand and highly regarded acts of a generation. This Red Rocks concert season is shaping up to be laden with sell outs. Tickets are selling fast for Winter on The Rocks, Global Dub Festival, Thievery Corporation, Dada Life, The Motet, and Twenty One Pilots to name a few.
Red Rocks Amphitheatre in Morrison, Colorado is a great place to head to if you're looking for entertainment, as some incredible concerts are held there on an annual basis. Some of the best musicians in the world hit the stage at this unique venue, and you can be there to see it happen this year.
buyTickets.com has compiled a list of the hottest Red Rocks events that will be taking place at the historic Red Rocks Amphitheater.
Jan 29 - Icelantic's Winter On The Rocks: Adventure Club & Big Grams
May 7 - Papadosio
May 13 - Thievery Corporation
May 14 - Global Dub Festival: Datsik & Bro Safari
May 21 - Dada Life
May 27 - The Devil Makes Three & Shakey Graves
Jul 12 - Twenty One Pilots
Jul 13 - Twenty One Pilots
Jul 20 - Portugal The Man & Glass Animals
Jul 22 - The Motet
BuyTickets.com is committed to excellent customer service and fast, secure shipping.
Order By Phone
by calling (855)BUYTICKETS
855-289-8425
or visit the website
http://www.buyTickets.com
Note: buyTickets is not associated with any of the artists, teams, or venues mentioned in this release. Any names used are solely for descriptive purposes and do not imply any type of affiliation, partnership, or endorsement.