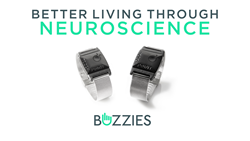 A complete paradigm shift for mental health... Instead of coping with stress and anxiety, they can reduce it in seconds.
Scottsdale, Arizona (PRWEB) December 06, 2016
The Touchpoint Solution's new neuroscience wearable, Buzzies, generated over $100K in sales online in less than fIve days after launch. Almost 200 backers pledged more than $25,000 on Kickstarter to bring to the market what people are calling a life-changing technology.
Dr. Amy Serin, an Arizona Neuropsychologist and inventor, says she feels like she stumbled upon a miracle that she wants other people to know about and that Buzzies represent "a complete paradigm shift for mental health. We want people to know that instead of coping with stress and anxiety, they can reduce it in just seconds."
After exceeding their original $15,000 goal, The Touchpoint Solution added a Kickstarter stretch goal of $50,000 by December 20th to further their scholarship program of giving free Buzzies to those in need. If the goal is reached, 10 scholarships will be granted in addition to scholarships that have already been granted through applications on their website http://www.Buzzies.com.
WHAT ARE BUZZIES?
Buzzies are non-invasive, wearable devices that use patent-pending neuroscience to relieve stress and anxiety, improve focus, reduce cravings, improve performance, manage anger, reduce sensory overload, and better enable sleep.
HOW DO THEY WORK?
Buzzies use technology called BLAST (bi-lateral alternating stimulation-tactile) interfere with the body's Fight, Flight or Freeze (F3) response to stress and anxiety. The F3 system depletes the body of energy, mental strength and overall quality of life. When the F3 system is activated, all non-essential functions in the body shut down, such as logic and reason. This allows the body to focus on fighting off the perceived threat.
WHO DOES IT HELP?
Founder Vicki Mayo says Buzzies customers include autistic children, gifted children, working professionals, first responders, and parents who want a cost-effective solution to help diminish stress in real-time. "Unlike meditation, Buzzies are passive so they can work while you multi-task rather than taking time out of your day." And Buzzies are quiet when placed in pockets "so you can be in a meeting negotiating and no one will even know they are on."
HOW ARE THEY USED?
Buzzies are worn on both wrists or can be placed in such as socks, pockets, etc. For Buzzies to work, one device must be on the right and one on the left side of the body, but they do not need to be touching skin. Wearers use the Buzzies App to turn on the vibrating units & choose a pre-setting for sleep, focus, craving, calm, performance or anger. Individual settings can easily be customized. The Buzzies can be used for as little as 1 minute to calm stress or they can be left on for much longer periods of time during stressful situations.