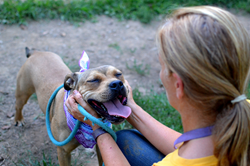 WEST CHESTER (PRWEB) August 31, 2016
12 dogs will be released from the custody of the Brandywine Valley SPCA (BVSPCA) and be available for adoption on Saturday, September 3, 2016, after almost 11 full months of residency at the BVSPCA shelter in West Chester, Pennsylvania. For the first time in history a Parkesburg Borough resident was charged under House Bill 164, which outlaws the possession of animal fighting paraphernalia (Chester County Court of Common Please, Commonwealth V. Dowayne Molina, 4520-15).
As originally reported by Philly.com last year on November 8, 2015, the dogs involved in this historic case were seized from the possession of Dowayne Molina and Teresa Campos last October after BVSPCA's Animal Protective Services received a tip from the Pennsylvania Department of Probation and Parole who were conducting a routine visit to the offender. The dogs had scarring to their faces and bodies consistent with injuries associated with dog fighting and numerous items were discovered believed to be dog fighting equipment. Molina and Campos were arrested and charged under a new state law signed by Governor Wolf.
Due to the necessary legal process that unfolded around this case, none of the dogs have been unable to be adopted out to loving homes until the decision was made this week. "We are honored to have served as the guardians for these dogs over the last year," stated Adam Lamb, Chief Executive Officer of the Brandywine Valley SPCA. "We really need the community to support the BVSPCA and these dogs in particular by coming out to the shelter this weekend to adopt."
Attorney Kevin Pierce added, "The Commonwealth is happy the case reached a close that ends with the dogs being able to find forever homes…It was an honor and a privilege to work with the dedicated members of State Parole and the Brandywine Valley SPCA, who put the animals first and helped bring this case to justice."
Five of the dogs who have been living in foster homes are being formally adopted by their foster parents this week. The remaining seven dogs will be available for adoption at the BVSPCA's West Chester, Pennsylvania, shelter this weekend. If you are interested in adopting one of these resilient dogs, please visit us at our West Chester shelter campus on Saturday, September 3, at 1212 Phoenixville Pike, West Chester, Pennsylvania, 19380.
Additional information on the Brandywine Valley SPCA can be obtained at http://www.bvspca.org. For more information on this press release please contact Elizabeth Sabel at 484-302-0049 or esabel(at)bvspca(dot)org.
About the Brandywine Valley SPCA
Founded in 1929, the Brandywine Valley SPCA was the first open admission shelter in Pennsylvania to achieve No Kill status and serves as the only open admission shelter in Chester County. Its mission is to put the "human" back in humane animal treatment and advocate on their behalf. Each year, the BVSPCA cares for nearly 5,000 stray, owner-surrendered, wayward owned, and abused and neglected animals. In 2016, the BVSPCA opened a new shelter in Delaware. For more information, please visit http://www.bvspca.org.