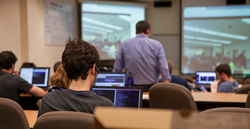 Having the contest between schools across the country puts our skill sets in perspective, as we can really see how we match up against our competition in the market.
Storm Lake, Iowa (PRWEB) April 20, 2015
Students from the Buena Vista University (BVU) computer science department competed against each other and students from three additional universities during BVU's third annual virtual Capture the Flag computer security contest on Saturday, April 11.
During the attack-and-defend challenge, which was spread over eight hours of competition time, 14 teams of four to six students each from the participating schools had the opportunity to test their hacking skills in a real-time setting and were also assigned servers to protect. Teams accumulated points by capturing data or "flags" from the servers of their competitors, by ensuring their servers were secure to prevent flag theft and by keeping their software services uninterrupted. Web cameras and projectors created a virtual window among contestants across the three sites for the duration of the contest.
The first Capture the Flag contest in 2013 was small and only involved students from BVU, with a total of 12 students participating. In 2014, the contest expanded when Whitworth University in Spokane, Washington, joined the competition, with a total of 40 students competing from both schools.
The 2015 contest again included Whitworth University, and participation increased with an additional contest site at Taylor University in Upland, Indiana, and with students from Northwestern College in Orange City competing onsite at BVU's campus.
"By raising the stakes and inviting additional schools, our students have responded by upping their game and contributing an intensity that was not seen previously when competing only with their peers at BVU," said Dr. Nathan Backman, assistant professor of computer science at BVU and organizer of the Capture the Flag contest. "By increasing the participant pool, the talent and competition increases, which motivates our own students to excel."
This contest is noteworthy because it encompasses a large portion of BVU's computer science curriculum, covering topics including programming, databases, web development, network communications, operating systems, computer security and other concepts found in information technology. By participating, students have the opportunity to see how they measure up to a large body of concepts.
Since the Capture the Flag contest provides a unique format and scope that combines learning and competition, it has garnered interest from a variety of colleges and universities, but Backman keeps his focus on the integrity of the contests and not the size.
"We have been growing slowly and deliberately as to not underestimate the complexities of scaling the event," said Backman. "Beyond the logistics of facilitating additional participants and contest sites, as the number of teams increase, the dynamics of the contest must also change to ensure that desired learning outcomes are emphasized appropriately. There is still much to figure out in order to scale beyond what we have accomplished so far."
To emphasize the learning aspect of the contest, each competing team must include only freshman or first-year students as their fifth and sixth team members. "Initially for first year students, this contest can certainly feel overwhelming. As students compete in subsequent years, however, they begin to tackle many of the more difficult challenges of the contest," says Backman. "Students can really measure their progress through the curriculum by competing in this contest, and it gives them confidence knowing that they can apply knowledge learned from the classroom immediately and towards real-world problems."
Jerry Heylmun, a BVU junior computer science major from Beaver Lake, Nebraska, has competed in the contest for all three years. "When I competed as a freshman, I did not know much about the potential flaws and exploits that existed in networking, but I learned a lot just from watching and asking questions of my team, who were mostly juniors and seniors," said Heylmun. "The contest gave me a quick introduction to computer security and motivated me to further pursue the topic. Having the contest between schools across the country puts our skill sets in perspective, as we can really see how we match up against our competition in the market."
Backman received an education grant award from Amazon Web Services and grant money from the BVU School of Science Stine Endowment to obtain hardware and external server space to facilitate the challenge.
About Buena Vista University
Founded in 1891, Buena Vista University offers 43 majors and 15 pre-professional programs that blend liberal arts with real-world applications, preparing students for lifelong success. Its quality academic programs, faculty, facilities, and technology result in 94 percent of BVU's recent graduates being employed or enrolled in graduate/professional schools within six months of graduation, based on a 97 percent survey response rate. Generous merit and need-based financial aid programs, and support for academic travel, research, and internships, make BVU an affordable option for all students and, combined with its academic programs, has led U.S. News & World Report to rank BVU as the third best value school among Midwest Regional Colleges and to an A stable rating from Standard & Poor's. Visit http://www.bvu.edu.
###