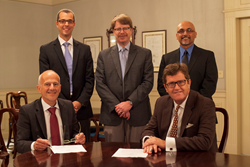 This exciting new agreement with HEG-Genève furthers our aim to provide Buena Vista University students with a high-quality, global educational experience.
Storm Lake, Iowa (PRWEB) August 29, 2014
Buena Vista University (BVU) has signed an agreement with Haute école de gestion de Genève, or the Geneva School of Business Administration (HEG), located in Geneva, Switzerland, to enable an exchange program for students between the two institutions.
Through the program, the two institutions can exchange up to two students each per academic year between the schools, and students remain enrolled in their home college and receive college credit for the coursework completed while at the partner institution. Students will spend a complete semester studying at the host school and living with host families or in residential facilities, giving them an immersive international experience.
"This exciting new agreement with HEG-Genève furthers our aim to provide students with a high-quality, global educational experience," said BVU President Fred Moore. "HEG is a very well respected leader in international business education, and we are delighted to be partners with such a fine institution."
"The business programs at both institutions share similar philosophies and values and are committed to business education that is steeped in state-of-the-art business practices and subject matter knowledge that is readily applicable to local, national and international businesses and markets," said Dr. Ashok Subramanian, professor of business and dean of the Harold Walter Siebens School of Business. "This will be a truly transformative experience for BVU students, as it is virtually impossible to not learn and grow when immersed culturally, socially, academically and professionally for an extended period of time in a dynamic city such as Geneva, Switzerland. This, in my view, is the essence of a true international business education."
The exchange program will begin with the Fall 2014 semester, and BVU has one student scheduled to depart for Geneva in the first week of September to participate in the program. The program is open to BVU students who have completed 31-35 hours of coursework in the business major. Students must have an interest in international business, a record of academic excellence and demonstrated maturity to handle an extended trip overseas. Eligible BVU students will be selected for the program based upon evaluation by faculty within the department and the dean of the School of Business.
The Haute Ecole de Gestion de Genève belongs to the University of Applied Sciences Western Switzerland (HES-SO) and offers various degree programs. The teaching philosophy of the school is focused on applied and practical skills, with a philosophy of innovation, excellence, ethics and sustainable management. The missions of the school also include research activities oriented towards applied research with regional and international dimensions. The international dimension of the school stems from the collaboration with international organizations, multinational corporations or non-governmental organizations in the Geneva region. HEG's International Business Management department offers the only undergraduate program in western Switzerland that is taught entirely in English.
"We look forward to seeing our students have opportunities to learn from the expertise of BVU faculty members and have a great life experience in Storm Lake," said Dr. Alexandre Caboussat, dean of the department of international business management at HEG. "Being immersed in another country for an exchange program is a great opportunity to have during one's undergraduate studies. Besides improving their international business skills and being better prepared for the professional world, an exchange between our institutions will help our students to be more aware of the globalized world and position themselves as leaders in a multicultural environment."
BVU plans to host its first HEG exchange student in the Spring 2015 semester.
About Buena Vista University
Founded in 1891, Buena Vista University offers 43 majors and 15 pre-professional programs that blend liberal arts with real-world applications, preparing students for lifelong success. Its quality academic programs, faculty, facilities, and technology result in 97 percent of BVU's recent graduates being employed or enrolled in graduate/professional schools within six months of graduation, based on a 98 percent survey response rate. Generous merit and need-based financial aid programs, and support for academic travel, research, and internships, make BVU an affordable option for all students and, combined with its academic programs, has led U.S. News & World Report to rank BVU as the third best value school among Midwest Regional Colleges and to an A-rating from Standard & Poor's.
###