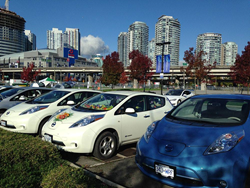 [Adding EV charging stations] was one of the next steps in our hotel's Sustainability Plan and we are seeing more and more EV onsite from hotel guests.
Kelowna, BC (PRWEB) August 26, 2015
They say winners are willing to go the extra mile to succeed. Bruce and Susan Stout did that, quite literally, to take top honours in the third annual E-mazing Race. Their cross-country adventure took them to many places, including a pit stop at one of the more forward-thinking Kelowna hotels.
In total, the Vancouver couple drove their new Tesla Model S 17,895 kilometres coast-to-coast-to-coast for the competition that's aimed at raising awareness for electric vehicles (EVs). They added another 1,600km in the final two days of the month-long competition (May 27 to June 26) to finish with a staggering 19,495km.
"We were impressed with the three charging stations in May, and the addition of a Tesla charging station in June on our return trip," says Bruce, of their Kelowna stops.
The Best Western now leads all Kelowna hotels with a total of five charging stations.
"The installation of (five) charging stations almost guarantees that one will be available when you visit," adds Bruce, who is president of the Vancouver Electric Vehicle Association (VEVA). "This is forward thinking as the adoption of BEVs (battery electric vehicles) increases, other locations with only one charger will always be full and BEV drivers will avoid them."
Best Western prides itself on being one of the 'greener' hotels in Kelowna, and the EV charging stations are a part of that.
"We are just simply proactive," says Brenda Rayburn, Director of Sales and Marketing for the Kelowna hotel. "There was an opportunity with Tesla and Sun Country Highway to add the Tesla-branded car charger, so we did that. This was one of the next steps in our hotel's Sustainability Plan and we are seeing more and more EV onsite from hotel guests."
Each year, the E-Mazing Race gets bigger and bigger, thanks to increasing corporate sponsorship. This year's event drew more than 450 registrants. Also aiding the competition's growth is a handy smartphone app called the Sun Country Highway Navigator (available on Apple and Android), which allows participants to locate nearby Sun Country Highway EV charging stations.
While the official start and finish lines of the E-Mazing Race were in Halifax and Vancouver, respectively, anyone could participate anywhere in the country. Racers planned their own travel routes and collected points using the Navigator app. Points were earned by checking in with a photo at as many Sun Country charging stations as possible.
In Sun Country's wrap-up announcement, organizers thanked the event's growing sponsorship and contributions from an enthusiastic team of volunteers: "The E-mazing Race would not be possible without the incredible support we receive from the EV community and sustainability-minded businesses. Participation in our annual rally continues to grow and helps fuel awareness and expansion of EV infrastructure across North America."
Sun Country's next initiative—the Okanagan EV Eco Wine Tour—will likely see increased usage of EV charging stations at Kelowna hotels.
The event, which runs Oct. 23-25, is an exclusive opportunity for EV enthusiasts to experience wine tastings and spectacular meals at sustainability-minded wineries across the Okanagan Valley. Rayburn says the Best Western Kelowna is proud to be both a sponsor and one of the host hotels for this innovative event.
For more information, please contact:
Brenda Rayburn
Director of Sales & Marketing
1-250-979-6905
brenda[at]bwkelowna[dot]com
http://www.bestwesternkelownahotel.com
About BEST WESTERN PLUS Kelowna Hotel & Suites
The BEST WESTERN PLUS Kelowna Hotel & Suites has been offering guests a convenient launching pad to all there is to enjoy in the Okanagan. The Best Western's amenities and extras include high-speed fibre optic Internet, a mineral pool, hot tubs, free hot breakfast buffet, fitness centre, spa, a restaurant and pub and more. With dozens of eco-tourism awards and a LEED Silver environmental wing as well as a sprawling, grassy courtyard surrounding its 176 rooms, this Best Western Plus has become one of the most popular 'green' and pet-friendly Kelowna hotels.