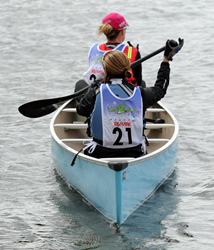 We're really fortunate to be able to offer hotel guests such a range of activities this spring that are really special to the valley.
Kelowna, British Columbia (PRWEB) April 11, 2014
Oenophile, family of four, Olympic hopeful—No matter what kind of tourist arrives at Kelowna hotels this spring, they're going to find a one-of-a-kind event that'll make them fall in love with the Okanagan.
"We're really fortunate to be able to offer guests such a range of activities this spring that are really special to the valley," says Brenda Rayburn, Director of Sales and Marketing at BEST WESTERN PLUS Kelowna Hotel & Suites. "There's always something happening in Kelowna and we love being able to help guests discover new experiences."
April
Kelowna Farmers' and Crafters' Market
As the biggest farmers' market in BC and located in the heart of the Okanagan, tourists will find some of the finest produce under the sun, from peppers and peaches to squash and strawberries. They can bring home a taste of the Okanagan with some local honey or jam, and bring gifts of handmade soap, shoes, jewellery or woodwork. The Kelowna Farmers' and Crafters' Market runs 8 a.m. to 1 p.m. Wednesdays and Saturdays on the corner of Dilworth and Springfield (a short walk from many Kelowna hotels) from April to October.
RE/MAX Ski2Sea Race
Starting out on the champagne powder of Big White Ski Resort and ending on the shores of Kelowna's City Park 95 kilometres later, the RE/MAX Ski2Sea Race is a competition unlike any other. Either solo or in groups of up to seven athletes, competitors race through alpine to Nordic skiing on the hill, to mountain biking to road cycling to running and then, finally, canoeing or kayaking. This year's Ski2Sea Race, being held April 13, will attract hundreds of athletes, and it's just as much fun to watch.
May
20th Annual Spring Wine Festival
A-winning wines produced by world class and family wineries across the valley are available for tasting. The May 1-11 Spring Okanagan Wine Festival features more than 100 events staged at area wineries, often as part of tastings where festival-goers also have the chance to feast on gourmet 100-mile fare prepared by star chefs as well as enjoy live music and lake sunsets.
Knox Mountain Hill Climb
The longest-running paved hill climb in North America, Kelowna's Knox Mountain event is in its 50th year and attracts some of the best drivers from across the continent. One at a time, cars wind this steep, narrow road, making nine turns and sometimes reaching speeds of up to 160 km/h along the hill's 800 feet. Come out to this year's Knox Mountain Hill Climb, held May 17 and 18, to see if anyone can beat the hill's record of 1 minute 37 seconds.
June
Fat Cat Children's Festival
Join the smallest Kelowna residents as they celebrate all it means to be a kid—imagining, learning and having fun. The Fat Cat Children's Festival kicks off for the public June 7 with a 10 a.m. parade through Rutland (near several Harvey Avenue Kelowna Hotels), followed by an afternoon of stage performances and family activities at Waterfront Park.
Rotary Arts WAM!
Kelowna tourists can eat, drink wine and be merry like the locals do at the Rotary Centre for the Art's fourth annual celebration of WAM! Wine, Art & Music June 14. At this wildly popular event in a one of the cultural district's most impressive buildings, guests will have a chance to taste some of the Okanagan's most revered wines and dishes while listening to some fabulous performers. Tickets are $89.
"There are so many cool things to see and do, not just in Kelowna, but up and down the Okanagan valley," says Rayburn, "We have many guests who book their hotel rooms in Kelowna for the following year before they even leave the city so they can return and attend these annual events."
For more information, please contact:
Brenda Rayburn
Director of Sales & Marketing
The BEST WESTERN PLUS Kelowna Hotel & Suites
1-250-979-6905
brenda[at]bwkelowna[dot]com
http://www.bestwesternkelownahotel.com/