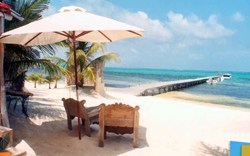 The added bonus is the island's spectacular limestone caves, picturesque waterfalls, virgin tropical rain forest, and ancient Mayan ruins and temples.
Fort Lee, New Jersey (PRWEB) August 03, 2013
In the azure blue waters off the Coast of Belize, Ambergris Caye offers beach destination vacationers the balmy tropical breezes of the Caribbean, some of the world's best scuba diving, tropical rain forest, Mayan ruins, and much more. In the latest blog dated August 2, 2013 and titled, "Ambergris Caye off the Coast of Belize Offers Spectacular Beaches, Rich History, and Lifelong Memories", ByDaBeach.com offers readers a peek at the unique island location jam packed with beauty, adventure, and culture.
The largest island in Belize and the number one destination for travellers to this western Caribbean nation, Ambergris Caye has been the hub of Belizean maritime trade for centuries. ByDaBeach.com guest blogger Liz Ernst tells readers that the island's tourism growth over the past 30 years has replaced their historic means of support, fishing, with ecotourism. The island's warm waters, teeming with a spectacular variety of marine life that draws scuba divers here in droves, year round, make its only town, San Pedro Town, the dive and water sports capital of Central America.
"Belize was once known as British Honduras, and is a democratic, English-speaking nation entrenched in the rich history of the Mayan Indians," Ernst says. "Its balmy, tropical environment makes it an ideal vacation spot for beach-seeking travelers and divers, thanks to its proximity to the Belize barrier reef system."
"The added bonus is the island's spectacular limestone caves, picturesque waterfalls, virgin tropical rain forest, and ancient Mayan ruins and temples draw adventurers who want a true Central American vacation experience."
Ernst says that visitors come to Belize for adventure on and off the water. In addition to sailing, tubing through the Mayan caves, scuba diving and snorkeling the Belize reef barrier system—the second largest in the world—visitors are zip lining through the rain forest, exploring ancient Mayan ruins, or simply hiking through the jungle, any one of which makes Ambergris Caye a vacation destination of a lifetime.
Lying one-half mile east of the Ambergris Caye shoreline, the Belize barrier reef runs the island's entire 25 mile length. The Great Blue Hole, Turneffe Islands, Shark Ray Alley, Hol Chan Marine Reserve, Mexico Rocks, Lighthouse Reef, and many other prime diving spots are only a short boat ride from the island.
The people of Belize play a huge role in making a vacation here memorable. Comprised of a unique mix of 10 different cultures includes Maya, Creole, Mestizo, Mennonites, East Indian and Garifuna; their friendly and relaxed hospitality provides a welcoming environment that visitors remember for a lifetime.
"Ambergris Caye makes a perfect destination wedding and honeymoon location," Ernst says. "And with its rich history, spectacular vistas and unlimited adventures, this is a must-visit beach vacation that should be on everyone's bucket list."
The ByDaBeach.com Destination Guide features brief summaries of each of the site's coastal getaways. Find out all you need to know to schedule a Bali wedding ceremony or a Barbados honeymoon. ByDaBeach.com offers a glimpse at the world's most desirable sandy playgrounds, from Capetown, South Africa, to the Florida Keys. For more information, visit the ByDaBeach.com website, or e-mail info(at)ByDaBeach(dot)com.
About Marble Media:
Marble Media LLC is a creator of high-quality, content-rich blog sites that provide expansive coverage og relevant information to readers who make up a wide range of demographics, The Marble Media team of expert writers covers a wide range of specialties including travel, food, health, fitness, social media, marriage, parenting, technology, weight loss, fashion and much more For more information on Marble Media LLC's offerings and advertising opportunities, visit the MarbleMediaLLC.com website, or e-mail sales(at)marblemedia(dot)com.