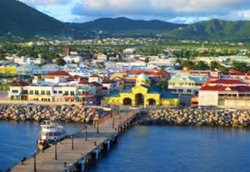 A trendy getaway for Caribbean beach lovers.
Fort Lee, New Jersey, (PRWEB) September 21, 2013
The tiny West Indies island of St. Kitts celebrates 30 years of independence this week, enjoying all the benefits of investment and tourism dollars that flow into the economy of this 65 square mile Caribbean island federation just 18 miles long and about five miles wide. In the latest blog from Marble Media LLC's ByDaBeach.com titled,"The Unassuming Beauty of St. Kitts", guest blogger Liz Ernst describes the island's rich history and magnificent beaches that make it one of the trendiest Caribbean Island getaway destinations today.
The West Indies island federation bordered by the Caribbean Sea to its west, and the Atlantic Ocean to its east has long been known as one of those "hidden gems" in the Caribbean that travelers should be adding to their list of tropical Getaway must-sees. Even as vacationers arrive in droves from cruise ships, the island still manages to maintain its charming, low key tropical nature.
Since playing host to the Cricket World Cup in 2007, St. Kitts and its tiny sister island Nevis were catapulted to worldwide attention and began earning a reputation as a trendy getaway for Caribbean beach lovers. But St. Kitts has much more than its pristine beaches to offer visitors, including the Brimstone Hill Fortress National Park, a UNESCO World Heritage Site of historical, cultural and architectural significance and one of the best preserved historical fortifications in the Americas.
St. Kitts and Nevis offer visitors plenty of options for exploring, but it is the beaches, scenery and a warm, sunny climate that draw visitors from around the world to one of the most beautiful beach destination locations anywhere.
For more information on beach vacation destinations in the Caribbean or anywhere in the world, visit the ByDaBeach.com website, or Email info(at)ByDaBeach(dot)com.
About Marble Media:
Marble Media LLC is a creator of high-quality, content-rich blog sites that provide comprehensive coverage of relevant information to readers who make up a wide range of demographics, The Marble Media team of expert writers covers a wide range of specialties including travel, food, health, fitness, social media, marriage, parenting, technology, weight loss, fashion and much more For more information on Marble Media LLC's offerings and advertising opportunities, visit the MarbleMediaLLC.com website, or email sales(at)marblemedia(dot)com.