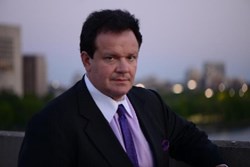 The key to social media success is paying attention to what people are saying and what they're asking. Like face-to-face communication, it's more important to listen well than to speak a lot.... We just have to keep our eyes, ears, and iPads open.
Salem, NH (PRWEB) February 20, 2014
New Hampshire DWI Lawyer Mark Stevens and @ByeByeDWI ranked among the top 13 social networking attorneys in the country. When EverSpark Interactive, an Atlanta-based SEO company, scoured the web for law firms (big or small) and lawyers using social media sites like rock-stars, prominent New Hampshire Defense Attorney Mark Stevens hit their radar hard. With just slightly under 70,000 followers on Twitter alone, it's no wonder why NH DUI lawyer Mark Stevens made the cut. Attorney Stevens may be known in the Twitterverse as @ByeByeDWI, but his Twitter handle isn't the only catchy networking tool in his back pocket. His perfectly paired website name "byebyedwi.com" might just be the key ingredient to dominating a niche in a huge online market.
Social media is such a highly recruited member of so many businesses today, mostly due to its game changing capabilities. Simply put, it's a game changer. The Law Office of Mark Stevens has opened up doors yielding to new and potential clients, client-referrals, and client reviews which until now had yet to be opened. Attorney Stevens dominates the social media world, popping up just about everywhere from Podcasts to YouTube, Facebook to Snapchat, and even Foursquare; you'll find Attorney Stevens in some of the most unlikely places to find a lawyer, however, very likely to find perhaps, a potential client in need of a lawyer. Mark Stevens has gained huge repute for his rather respectable following of not just "fans" but, friends, and in return has created attorney-client friendships (and agreements) through a much more diverse and interactive, multi-layered development of trust, virtually obsolete within the legal field in the past.
It's clear Mark Stevens "gets it" when it comes to social networking, "In my business for example, if the police erect a DWI roadblock or speed trap or other nuisance to the motoring public, the location of it gets communicated rapidly on Facebook and the Twitterverse. If a cop gets arrested or placed on murky "administrative leave," the people he or she arrested may benefit from knowing about it." -Mark Stevens
In an article EverSpark Interactive posted on their blog, "13 Attorneys Who Have Raised the Bar with Social Media," the thirteen social pack leaders were asked the question: How has social media helped your firm? "Social media has helped me because I embraced it early, participate regularly, and I've shared as much information as I can that might be of interest. The benefits of social media to me grew as quickly as the social media itself." (Mark Stevens).
"Social media frequently changes, but it will not fade away. It is not reliant on any one or two platforms: if Facebook closed down today or Twitter tweeted its last tweet, other platforms would replace them." - Mark Stevens
New Hampshire DUI-DWI Criminal Defense Attorney Mark Stevens and The Law Offices of Mark Stevens represent people accused of DWI and other crimes. Attorney Mark Stevens is available 24/7 @ 603.893.0074. Call right now to schedule a free consultation and initial case evaluation.