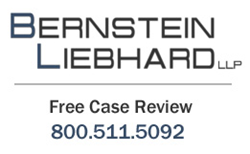 Our Firm is monitoring this litigation closely, as we continue to evaluate Byetta lawsuits on behalf of individuals who were allegedly harmed by this medication.
New York, New York (PRWEB) August 30, 2014
Hundreds of Byetta lawsuits (http://www.byettalawsuit.com) and other incretin mimetic claims continue to move forward in U.S. courts, Bernstein Liebhard LLP reports. According to a statement issued by AstraZeneca PLC on July 31, 2014, Byetta and Bydureon (an extended-release version of Byetta) have been named in 409 product liability claims that allege the drugs caused pancreatitis, pancreatic cancer and thyroid cancer. Court documents indicate that many of these claims are pending in a multidistrict litigation underway in U.S. District Court, Southern District of California. (In Re: Incretins Products Liability, Sales and Marketing Litigation, MDL 2452)*
According to court records, additional Byetta lawsuits have also been filed in a state-level litigation underway in California Superior Court. AstraZeneca's July 31st statement disclosed that at least 84 settlements have been reached in claims that were pending in this proceeding. The company did not disclose details of those Byetta settlements. (In re: Byetta Cases, JCCP No. 4574)
"Our Firm is monitoring this litigation closely, as we continue to evaluate Byetta lawsuits on behalf of individuals who were allegedly harmed by this medication," says Bernstein Liebhard LLP, a nationwide law firm representing victims of defective drugs and medical devices. The Firm is currently offering free legal evaluations to patients who developed pancreatitis, pancreatic cancer or thyroid cancer, allegedly due to their use of Byetta.
Incretin Mimetics Litigation
According to court documents, the federal litigation underway in the Southern District of California also included claims against the manufacturers of other incretin mimetics diabetes drugs, such as Januvia and Victoza. Among other things, plaintiffs in these lawsuits allege that defendants concealed their potential to harm the pancreas, and failed to provide doctors and patients with adequate warnings about this risk. More than 480 lawsuits had been filed in the proceeding as of August 15, 2014.
The litigation surrounding incretin mimetics has been growing since March 2013, when the U.S. Food & Drug Administration (FDA) announced it was investigating findings from an unpublished study that indicated their use could be associated with cellular changes in the pancreas called pancreatic duct metaplasia, a precursor to cancer. Though the agency has been unable to conclude that such a link exists, its review is ongoing.
In April 2013, the Institute for Safe Medicine Practices revealed that the FDA had received 263 reports of pancreatitis, 71 cases of pancreatic cancer, and 14 incidents of thyroid cancer among patients taking Byetta in a single 12-month period. The same review also found that compared to other classes of diabetes medications, incretin mimetics were far more likely to be associated with pancreatic cancer.**
Individuals who used Byetta or another incretin mimetic may be entitled to compensation if they developed pancreatic cancer, pancreatitis, or thyroid cancer. To learn more about filing a Byetta lawsuit, please visit Bernstein Liebhard LLP's website. For a free legal review, please call 800-511-5092.
*http://www.astrazeneca.com/cs/Satellite?blobcol=urldata&blobheader=application%2Fpdf&blobheadername1=Content-Disposition&blobheadername2=MDT-Type&blobheadervalue1=inline%3B+filename%3DPress-release.pdf&blobheadervalue2=abinary%3B+charset%3DUTF-8&blobkey=id&blobtable=MungoBlobs&blobwhere=1285677813451&ssbinary=true, AstraZeneca PLC, July 31, 2014
**ismp.org/quarterwatch/pdfs/2012Q3.pdf, ISMP, April 2013
Bernstein Liebhard LLP
10 East 40th Street
New York, New York 10016
800-511-5092
ATTORNEY ADVERTISING. © 2014 Bernstein Liebhard LLP. The law firm responsible for this advertisement is Bernstein Liebhard LLP, 10 East 40th Street, New York, New York 10016, 800-511-5092. Prior results do not guarantee or predict a similar outcome with respect to any future matter
Contact Information:
Felecia L. Stern, Esq.
Bernstein Liebhard LLP
info(at)consumerinjurylawyers(dot)com
http://www.byettalawsuit.com
https://plus.google.com/115936073311125306742?rel=author