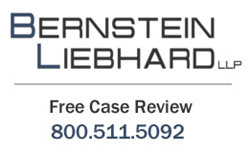 Our Firm continues to hear from individuals who were allegedly injured by Byetta and similar medications.
New York, NY (PRWEB) November 02, 2014
Nearly 550 Byetta lawsuits (http://www.byettalawsuit2013.com/), as well as claims filed over similar diabetes medications, have now been filed in a federal litigation underway in the U.S. District Court, Southern District of California, Bernstein Liebhard LLP reports.
According to court records updated on October 15th, a total of 546 claims are now centralized in the proceeding, after being filed by plaintiffs who similarly allege pancreatitis, pancreatic cancer and even thyroid cancer caused by Byetta, Victoza, Januvia and other drugs part of a class known as incretin mimetics. A month earlier, documents showed approximately 480 cases filed in California federal court, which suggests that the litigation is growing. (In Re: Incretins Products Liability, Sales and Marketing Litigation, MDL 2452)
"We are pleased to see more incretin mimetic lawsuits filed in California federal court, as our Firm continues to hear from individuals who were allegedly injured by Byetta and similar medications. We are monitoring this litigation closely," says Bernstein Liebhard LLP, a nationwide law firm representing victims of defective drugs and medical devices. The Firm is offering free and confidential case reviews to individuals who allegedly developed pancreatitis, pancreatic cancer or thyroid cancer as a result of Byetta.
Byetta Lawsuits
The hundreds of claims now filed over Byetta, Victoza and other medications in the U.S. District Court, Southern District of California follow a warning from the U.S. Food and Drug Administration (FDA) in March 2013 that relayed results of a previously unpublished study that found precancerous changes in the pancreas' of incretin mimetic users. The federal agency's alert maintained that a possible connection to the disease had not been confirmed, but it would continue to review the medications for safety.
Since then, plaintiffs have come forward to accuse the makers of Byetta, Victoza and other medications of failing to adequately warn about the risk for their products to have harmful side effects, which may include pancreatic cancer, pancreatitis and thyroid cancer.
In addition to incretin mimetic lawsuits filed in federal court, court records show a number of claims now centralized in a state litigation established in California Superior Court. (In re: Byetta Cases, JCCP No. 4574) A number of Byetta lawsuits pending in that proceeding were also settled in July by AstraZeneca, the company announced in July.*
Individuals who developed pancreatic cancer, pancreatitis or thyroid cancer, allegedly due to their use of Byetta or another incretin mimetic may be eligible to pursue a lawsuit against its manufacturer. Learn more about filing a Byetta lawsuit by visiting Bernstein Liebhard LLP's website. For a free legal review, please call 800-511-5092.
*astrazeneca.com/cs/Satellite?blobcol=urldata&blobheader=application%2Fpdf&blobheadername1=Content-Disposition&blobheadername2=MDT-Type&blobheadervalue1=inline%3B+filename%3DPress-release.pdf&blobheadervalue2=abinary%3B+charset%3DUTF-8&blobkey=id&blobtable=MungoBlobs&blobwhere=1285677813451&ssbinary=true, AstraZeneca PLC, July 31, 2014
About Bernstein Liebhard LLP
Bernstein Liebhard LLP is a New York-based law firm exclusively representing injured persons in complex individual and class action lawsuits nationwide since 1993. As a national law firm, Bernstein Liebhard LLP possesses all of the legal and financial resources required to successfully challenge billion dollar pharmaceutical and medical device companies. As a result, our attorneys and legal staff have been able to recover more than $3 billion on behalf of our clients. The Firm has been named by The National Law Journal to the Plaintiffs Hot List, recognizing the top plaintiffs firms in the country, for the past 12 consecutive years. Bernstein Liebhard LLP is the only firm in the country to be named to this prestigious list every year since it was first published in 2003.
Bernstein Liebhard LLP
10 East 40th Street
New York, New York 10016
800-511-5092
ATTORNEY ADVERTISING. © 2014 Bernstein Liebhard LLP. The law firm responsible for this advertisement is Bernstein Liebhard LLP, 10 East 40th Street, New York, New York 10016, 800-511-5092. Prior results do not guarantee or predict a similar outcome with respect to any future matter.
Bernstein Liebhard LLP
10 East 40th Street
New York, New York 10016
800-511-5092
ATTORNEY ADVERTISING. © 2014 Bernstein Liebhard LLP. The law firm responsible for this advertisement is Bernstein Liebhard LLP, 10 East 40th Street, New York, New York 10016, 800-511-5092. Prior results do not guarantee or predict a similar outcome with respect to any future matter
Contact Information:
Felecia L. Stern, Esq.
Bernstein Liebhard LLP
info(at)consumerinjurylawyers(dot)com
http://www.byettalawsuit2013.com/
https://plus.google.com/115936073311125306742?rel=author