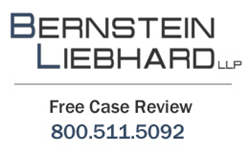 Our Firm frequently hears from individuals who allegedly developed pancreatic cancer, pancreatitis or thyroid cancer due to their use of Byetta and other incretin mimetics.
New York, New York (PRWEB) December 21, 2014
Hundreds of Byetta lawsuits (http://www.byettalawsuit2013.com/) and other product liability claims involving a class of Type 2 diabetes drugs known as incretin mimetics continue to move forward in a federal multidistrict litigation now underway in U.S. District Court, Southern District of California, Bernstein Liebhard LLP reports. According to an Order dated December 17th, the Court has established a data cut-off date of February 27, 2014 for discovery in certain claims involving defendants AstraZeneca Pharmaceuticals LP and Bristol-Myers Squibb Company. The Court is also scheduled to convene a telephonic status conference to discuss these cases on January 20, 2015. (In Re: Incretins Products Liability, Sales and Marketing Litigation, MDL 2452)
"Our Firm is currently representing individuals in this proceeding who were allegedly harmed by an incretin mimetic diabetes drug. We are pleased to see these cases moving ahead, and look forward to more progress in the coming year," says Bernstein Liebhard LLP, a nationwide law firm representing victims of defective drugs and medical devices. The Firm is currently offering free Byetta lawsuit evaluations to patients who allegedly developed pancreatic cancer, pancreatitis, or thyroid cancer due to their use of this medication.
Byetta Lawsuit Allegations
According to court documents, nearly 600 lawsuits have been filed in the Southern District of California on behalf of individuals who allegedly developed pancreatitis due to their use of Byetta, Januvia or Victoza. All of the complaints allege that the drugs' manufacturers failed to warn doctors and patients about their potentially harmful effects on the pancreas, as well as their alleged association with an increased risk of pancreatic cancer. Though the agency has been unable to conclude that such a link exists, its review is ongoing.
Byetta lawsuits and other product liability claims involving this class of medications have been mounting in U.S. courts since March 2013, when the U.S. Food & Drug Administration (FDA) announced it was reviewing findings from an unpublished study that indicated their use could be associated with precancerous changes in the cells of the pancreas.
Court records indicate that a number of Byetta lawsuits involving similar allegations have been consolidated in a state-level litigation underway in California Superior Court. (In re: Byetta Cases, JCCP No. 4574) AstraZeneca, the manufacturer of the drug, also disclosed in July that it had settled more than 80 claim involving the medication.*
Individuals who developed pancreatic cancer, pancreatitis or thyroid cancer, allegedly due to their use of Byetta or another incretin mimetic may be entitled to compensation for their injury-related damages. To learn more about filing a Byetta lawsuit, please visit Bernstein Liebhard LLP's website. For a free legal review, please call 800-511-5092.
*http://www.astrazeneca.com/cs/Satellite?blobcol=urldata&blobheader=application%2Fpdf&blobheadername1=Content-Disposition&blobheadername2=MDT-Type&blobheadervalue1=inline%3B+filename%3DPress-release.pdf&blobheadervalue2=abinary%3B+charset%3DUTF-8&blobkey=id&blobtable=MungoBlobs&blobwhere=1285677813451&ssbinary=true, AstraZeneca PLC, July 31, 2014
About Bernstein Liebhard LLP
Bernstein Liebhard LLP is a New York-based law firm exclusively representing injured persons in complex individual and class action lawsuits nationwide since 1993. As a national law firm, Bernstein Liebhard LLP possesses all of the legal and financial resources required to successfully challenge billion dollar pharmaceutical and medical device companies. As a result, our attorneys and legal staff have been able to recover more than $3 billion on behalf of our clients. The Firm has been named by The National Law Journal to the Plaintiffs Hot List, recognizing the top plaintiffs firms in the country, for the past 12 consecutive years. Bernstein Liebhard LLP is the only firm in the country to be named to this prestigious list every year since it was first published in 2003
Bernstein Liebhard LLP
10 East 40th Street
New York, New York 10016
800-511-5092
ATTORNEY ADVERTISING. © 2014 Bernstein Liebhard LLP. The law firm responsible for this advertisement is Bernstein Liebhard LLP, 10 East 40th Street, New York, New York 10016, 800-511-5092. Prior results do not guarantee or predict a similar outcome with respect to any future matter
Contact Information:
Felecia L. Stern, Esq.
Bernstein Liebhard LLP
info(at)consumerinjurylawyers(dot)com
http://www.byettalawsuit2013.com/
https://plus.google.com/115936073311125306742?rel=author