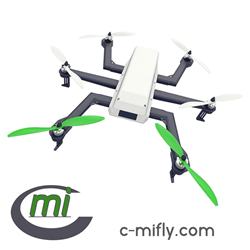 Consumers can focus on capturing images or a video, and not how to fly or manage the drone
Pasadena, CA (PRWEB) May 07, 2015
PolyHelo announced, via a Kickstarter campaign, its new camera drone, C-mi (see-me), an all-in-one camera drone designed for real world consumer use. Last week, the product's Kickstarter campaign achieved the coveted "Staff Pick" status, while gaining impressive funding support quickly.
Users can support C-mi's rise to success on its Kickstarter campaign, advance purchase the portable drone, and then fly C-mi in manual mode or multiple modes of automated flight, while capturing high definition video and images.
"Consumers can focus on capturing images or a video, and not how to fly or manage the drone," said PolyHelo's CEO, Mark Richardson.
"Anyone can use C-mi at events, on vacations, or even to make movies. C-mi's instant connection with social media platforms means sharing your expertise or hobby from the sky instantly. That in turn means growing a social following quickly."
C-mi's design incorporates a wide range of flight and camera behaviors into a number of intuitive flight modes. The drone's digital user interface has been designed for easily controlled flight, changeable camera modes and live video viewing while the drone is still in flight, directly sharing images and video to social media platforms, all from a single app.
C-mi offers multiple ease-of-use features making it the most competitive drone in the market. The features are:

Stow & Go – The legs remove quickly and easily for convenient transport
Intuitive Flight Modes – The autonomous flight modes enable users to focus completely on their task while C-mi does the flying.
Live Video Streaming – Users can see what they are capturing during flight, allowing for the very best video and image results.
Multiple Players – C-mi can interact with multiple GPS trackers and drones.
Social Media Sharing – Share images and video to any social media platform with an open API, while C-mi is still in flight.
With near completion of its original funding goal on Kickstarter, C-mi developer, PolyHelo aims now for its stretch goals, making C-mi an even more attractive consumer camera drone such as the upgraded 4000k camera.
"With additional help from backers who are contributing and sharing this very successful campaign, we are confident we can push C-mi over the top and achieve our stretch goals," said Richardson.
Polyhelo develops software and hardware for open blade multi-rotor systems and other unmanned aerial systems(UAS).