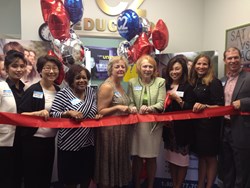 Washington, DC (PRWEB) September 19, 2013
On Thursday, September 12, 2013, C2 Education, the nation's fastest growing network of tutoring and test prep centers, celebrated the successful Grand Opening of the company's Bowie, MD learning center, located in the Free State Mall Shopping Center at 15500 Annapolis Road. Grand Opening events were attended by Mayor Pro Tem Diane Polangin, representatives from the local Chamber of Commerce, a representative of Bowie's City Council, and, in an unexpected surprise, Mrs. DC America.
"We were thrilled to see so many students and families at our Bowie Grand Opening," says C2 Education co-founder and CEO David Kim. "These students are just now heading back to school, and we want to help them have a fantastic and successful school year." C2 Education's Bowie learning center will provide local students with access to C2's full range of customized academic programs, including SAT prep, ACT prep, K-12 subject tutoring, and college admission counseling.
Grand Opening events began with a ribbon cutting ceremony to herald the reopening of the Bowie learning center. Later, students and parents were invited to attend a special seminar called "Study Habits that Stick", which discussed important study skills and strategies to help students of all ages and skill levels find success in and out of the classroom.
ABOUT C2 EDUCATION
C2 Education was founded as an in-home tutoring service run out of a Harvard dorm room in 1997. From those humble beginnings, C2 has grown to include more than 120 tutoring centers across the country serving thousands of students each week. C2 students enjoy fully customized programs, one-on-one interaction with highly qualified teachers, and the support needed to succeed throughout their educational careers. C2's results speak for themselves: C2 students increase their SAT scores by an average of 362 points, 100% of C2 students pass state standardized tests, and 85% of C2 students go on to attend a top 50 college or university. For more information about C2 Education, please visit http://www.c2educate.com or call 888-777-3889.