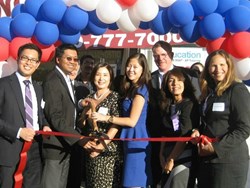 Bridgewater, NJ (PRWEB) September 27, 2013
On Wednesday, September 18, 2013, C2 Education, the nation's fastest growing network of tutoring and test prep centers, celebrated the successful Grand Opening of the company's Bridgewater, NJ learning center, located just off the Somerville Circle at 250 Route 202/206 in Somerville.
Throughout the weeks leading up to the Grand Opening, the local Chamber of Commerce played an active role in helping to welcome C2 Education to the community, and Grand Opening events were attended by members of the Chamber of Commerce. The opening of the new learning ceremony was heralded by a ribbon cutting ceremony presided over by C2 Education co-founder Jim Narangajavana and Vice President Victoria Cho.
Grand Opening events also included a study skills seminar for students and parents. The seminar, titled "Study Habits that Stick", was well received by local families. "The information we present in these seminars is the same information that we often share with our students," says Mr. Narangajavana. "Students' study habits can be the biggest factor determining their academic success, and we feel that it is important for students to establish strong study habits in order to set themselves up for long-term success."
The seminar is indicative of the kind of guidance and support that C2 Education students receive. In addition to academic guidance, C2 Education's Bridgewater learning center will also provide students with access to C2's full range of personalized academic programs, including SAT prep, ACT prep, K-12 subject tutoring, and college admission counseling.
ABOUT C2 EDUCATION
C2 Education was founded as an in-home tutoring service run out of a Harvard dorm room in 1997. From those humble beginnings C2 has grown to include more than 120 tutoring centers across the country, serving thousands of students each week. C2 students enjoy fully customized programs, one-on-one interaction with highly qualified teachers, and the support needed to succeed throughout their educational careers. C2's results speak for themselves: C2 students increase their SAT scores by an average of 362 points, 100% of C2 students pass state standardized tests, and 85% of C2 students go on to attend a top 50 college or university. For more information about C2 Education, please visit them online at c2educate.com or call 888 – 777 – 3889.