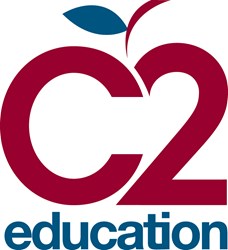 Naperville, IL (PRWEB) January 31, 2014
C2 Education, a premier tutoring and test preparation provider, looks forward to celebrating the opening of a new Chicago-area learning center in Naperville, Illinois. The new center's Grand Opening was to be held on Saturday, February 1, 2014, but weather conditions did not allow the event to take place. The center will now celebrate it's Grand Opening on Saturday, Febraury 15, 2014.
The new learning center, located in the Naperville Crossings shopping center at 2860 Showplace Drive in Naperville, will provide local students with access to C2 Education's full range of personalized academic programs, including SAT preparation, ACT preparation, K-12 subject tutoring, and college admission counseling.
To celebrate the opening of the new learning center, C2 Education will host a series of free academic seminars. At 1 PM local time, C2 Education's Director of Curriculum Development Edward Kim will present "Grade School and Middle School: Common Core Academic Success", an introduction to the changes the Common Core could affect in local schools. At 3 PM local time, Mr. Kim will present "The Common Application Process," discussing the details of applying to college, including how to evaluate student ACT, SAT, and PSAT scores. The presentations are open to all, but C2 Education requests that interested parties RSVP by contacting the new South Naperville learning center at 630-778-0802.
Prior to the free academic presentations, C2 Education will host a ribbon cutting ceremony to herald the opening of the new tutoring center. The Grand Opening will also include a raffle, free food and drinks, and cake catered by a neighboring bakery. Families in attendance will have the opportunity to meet with some of C2 Education's most experienced academic advisors.
ABOUT C2 EDUCATION
C2 Education was founded as an in-home tutoring service run out of a Harvard dorm room in 1997. From those humble beginnings, C2 has grown to include more than 120 tutoring centers across the country serving thousands of students each week. C2 students enjoy fully customized programs, one-on-one interaction with highly qualified teachers, and the support needed to succeed throughout their educational careers. C2's results speak for themselves: C2 students increase their SAT scores by an average of 360 points, 100% of C2 students pass state standardized tests, and 85% of C2 students go on to attend a top 50 college or university. For more information about C2 Education, please visit http://www.c2educate.com or call 888-777-3889.