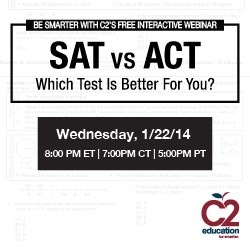 To maximize test scores, students should focus their energies on one test at a time.
Atlanta, GA (PRWEB) January 14, 2014
Each year, millions of students take the SAT or the ACT, hoping for top scores in order to compete for admission at the nation's best colleges and universities. SAT and ACT scores are among the top factors for admission at most colleges, second only to GPA and course rigor. In an ongoing effort to improve their chances for admission, students are increasingly preparing for and taking both the SAT and the ACT, hoping to earn a top score on at least one of the two tests.
C2 Education, a leading tutoring and test preparation provider, has found that many students can benefit more from focusing their efforts on just one test – but it has to be the right test. Though similar in many ways, the SAT and the ACT test very different skill sets. As a result, many students discover a natural affinity for one test over the other.
"We often see students who struggle with one test but do quite well on the other," says C2 Education co-founder and CEO David Kim. "For example, students who struggle with vocabulary will often perform somewhat better on the ACT than the SAT because the ACT places less emphasis on high level vocabulary words."
To maximize test scores, students should focus their energies on one test at a time. This requires that students discover which test is better for their specific skills sets early in the test preparation process. By choosing the test that best meets their natural abilities, students can begin test preparation on stronger footing.
In an effort to encourage students to consider their options carefully, C2 Education is launching a month-long awareness campaign in January.
On Wednesday, January 22 at 8 PM EST (5 PM PST), C2 Education will host a free online event titled, "SAT vs ACT: Which Test Is Better for You?" Presented by long-time teacher and Regional Trainer Jonathan Grundy, this webinar will help students and parents to better understand the many differences between the SAT and the ACT, providing guidance to students trying to determine which test would best fit their needs. The event is free of charge, but spaces are limited and registration is required.
To encourage local students to take advantage of the unique programs that C2 Education offers, the company will offer preview classes during the month of January. With this limited time program, students can take a practice SAT or ACT, review the results with an expert program director, and participate in four hours of tutoring with an experienced C2 tutor for just $139 (a $420 value). To take advantage of this offer, contact a local center to schedule a practice test.
ABOUT C2 EDUCATION
C2 Education was founded as a small tutoring service run out of a Harvard dorm room in 1997. From those humble beginnings, C2 has grown to include nearly than 150 tutoring centers across the country serving thousands of students each week. C2 students enjoy fully customized programs, one-on-one interaction with highly qualified teachers, and the support needed to succeed throughout their educational careers. C2's results speak for themselves: C2 students increase their SAT scores by an average of 360 points, 100% of C2 students pass state standardized tests, and 85% of C2 students go on to attend a top 50 college or university. For more information about C2 Education, visit them online at c2educate.com or call 888-777-3889.