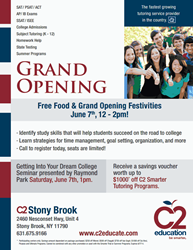 Stony Brook, NY (PRWEB) June 02, 2014
C2 Education, a premier tutoring and test preparation provider, will celebrate the Grand Opening of a new Long Island learning center on Saturday, June 7 from noon until 2 p.m. The new tutoring center is located minutes away from Smith Haven Mall in the Smith Point Plaza at 2460 Nesconset Highway, off exit 62 on the Long Island Expressway. The center will provide local families with access to a wide variety of personalized academic programs, including K-12 subject tutoring, homework help, SAT preparation, ACT preparation, college admission counseling, and more.
To celebrate the opening of their newest tutoring center, C2 Education will host a college admission workshop titled "Getting Into Your Dream College." The workshop will help students identify important study skills and strategies for time management, goal setting, and organization in order to find success on the road to college. The workshop will begin at 1 p.m. following a ribbon cutting ceremony to herald the opening of the new tutoring center. "Getting Into Your Dream College" will be presented by Raymond Park, one of C2 Education's most experienced academic advisers.
Attendees will have the opportunity to meet with several members of C2 Education's academic advising team, including Jennifer Lee, the Program Director for the new Stony Brook tutoring center. Before joining C2 Education, Lee studied psychology and studio art at the State University of New York at Oneonta. As the primary academic adviser for the new tutoring center, Lee has high goals for her students. "I want to push students to strive for their best, while providing support and guidance to increase students' confidence, independence, and motivation," Lee says. Lee leads a small team of highly qualified tutors, all of whom have prior teaching experience and a passion for education.
Families who attend the Grand Opening festivities will also receive a savings voucher for up to $1,000 off services at the new Stony Brook tutoring center. C2 Education's Stony Brook location is currently accepting appointments. To schedule a consultation or to learn more about C2 Education, contact C2 Stony Brook at (631) 675 – 9166.
ABOUT C2 EDUCATION
C2 Education was founded as an in-home tutoring service run out of a Harvard dorm room in 1997. From those humble beginnings, C2 has grown to include more than 120 tutoring centers across the country, serving thousands of students each week. C2 students enjoy fully customized programs, one-on-one interaction with highly qualified teachers, and the support needed to succeed throughout their educational careers. C2's results speak for themselves: C2 students increase their SAT scores by an average of 360 points, 100% of C2 students pass state standardized tests, and 85% of C2 students go on to attend a top 50 college or university. For more information about C2 Education, please visit http://www.c2educate.com or call (888) 777 – 3889.