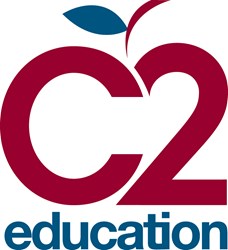 Who: All local students and parents; What: Free career planning workshop hosted by C2 Education; When: Sunday, February 23, 2014 at 1 PM; Where: 644 Menlo Ave. Suite 100, Menlo Park, CA
Menlo Park, CA (PRWEB) February 17, 2014
C2 Education, the nation's fastest growing network of tutoring and test preparation centers, will celebrate the Grand Opening of a new learning center in Menlo Park, California on Sunday, February 23, 2014. Located in Suite 100 of 644 Menlo Avenue near El Camino Real, the new Menlo Park tutoring center will provide local students with access to C2 Education's full range of customized academic programs, including K-12 tutoring, SAT preparation, ACT preparation, college admission counseling, and more.
C2 Education will celebrate the Grand Opening of the new Menlo Park location with a ribbon cutting ceremony scheduled for 1 PM. Following the ribbon cutting, students will be invited to attend a special workshop called, "Planning for the Future: Career and Major Exploration." All families in attendance will receive a free trial class to sample C2 Education's programs, as well as a savings voucher for up to $1,000 off tuition at the new tutoring center.
Throughout the Grand Opening events, local parents are invited to meet some of C2 Education's top academic advisors, including Menlo Park's program director, Ms. Dina Cunha-Lee. Ms. Cunha-Lee has an impressive academic background, including a graduate degree in School, College, and Career Counseling. A National Board Certified Counselor with California credentials, Ms. Cunha-Lee was trained at Stanford's Career Development Center in interpreting career and personality assessments. Ms. Cunha-Lee will highlight her expertise as she presents "Planning for the Future: Career and Major Exploration."
Ms. Cunha-Lee looks forward to her role at the new C2 Education Menlo Park center. Each C2 Education program begins with an academic assessment, which helps to pinpoint academic strengths and areas for improvement. With these results in hand, Ms. Cunha-Lee will help to design a comprehensive academic program customized to address the unique needs of each student. Throughout a student's program, she will provide in-depth academic and college admission counseling, ensuring that students are on track to meet or exceed their academic goals.
To learn more about C2 Education's newest California learning center, contact the Menlo Park location at (650) 566 – 1031. The tutoring center is currently accepting appointments for assessments and consultations.
ABOUT C2 EDUCATION
C2 Education was founded as an in-home tutoring service run out of a Harvard dorm room in 1997. From those humble beginnings, C2 has grown to include more than 120 tutoring centers across the country serving thousands of students each week. C2 students enjoy fully customized programs, one-on-one interaction with highly qualified teachers, and the support needed to succeed throughout their educational careers. C2's results speak for themselves: C2 students increase their SAT scores by an average of 360 points, 100% of C2 students pass state standardized tests, and 85% of C2 students go on to attend a top 50 college or university. For more information about C2 Education, please visit http://www.c2educate.com or call 888-777-3889.