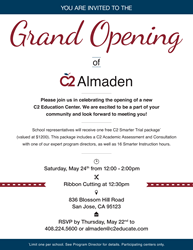 San Jose, CA (PRWEB) May 19, 2014
C2 Education, a premier tutoring and test prep provider, will celebrate the Grand Opening of a new learning center in the San Jose area on Saturday, May 24, 2014 from noon until 2 p.m. C2 Education's new Almaden Valley tutoring center is located in the Santa Teresa Main Street Shopping Center, just one block from the Westfield Oakridge Mall. Grand Opening events will include a workshop called "Maximizing Summer Break," which will help students and parents learn about summer opportunities that will help students get into their dream colleges.
The workshop, which is open to all local students, parents, and educators, will be presented by one of C2 Education's most experienced academic advisors, Patrick Burrell. Burrell will focus on summer internship and volunteer opportunities, as well as ways in which students can improve their college applications during summer break. The presentation will begin at 12:30 p.m. following a ribbon cutting ceremony to herald the opening of the new tutoring center.
The new C2 Education center will provide local students and their families with access to a wide range of fully personalized academic programs, including subject tutoring, SAT preparation, ACT preparation and college admission counseling. Families who attend the Grand Opening events for the new Almaden tutoring center will be able to explore the program options at C2 Almaden with a free academic assessment and consultation (a $120 value) and a savings voucher for up to $1,000 off services at the new location.
During the Grand Opening events, students and parents will have the opportunity to meet with members of C2 Education's academic advising team, including Almaden Program Director Debbie Hong, the primary academic advisor for the Almaden tutoring center. Hong joined C2 Education to pursue her passion for education and is particularly eager to help students with their college preparation and admission.
To learn more about C2 Education's newest tutoring center, contact C2 Almaden at (409) 224 – 5600. The center is currently accepting appointments for assessments and consultations.
About C2 Education
C2 Education was founded as an in-home tutoring service run out of a Harvard dorm room in 1997. From those humble beginnings, C2 has grown to include more than 120 tutoring centers across the country, serving thousands of students each week. C2 students enjoy fully customized programs, one-on-one interaction with highly qualified teachers, and the support needed to succeed throughout their educational careers. C2's results speak for themselves: C2 students increase their SAT scores by an average of 360 points, 100% of C2 students pass state standardized tests, and 85% of C2 students go on to attend a top 50 college or university. For more information about C2 Education, please visit http://www.c2educate.com or call (888) 777 – 3889.