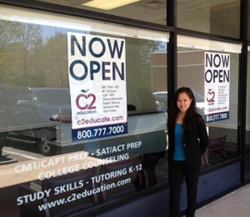 Westport, CT (PRWEB) May 12, 2014
On Sat., May 17, C2 Education will host a college admissions workshop to mark the Grand Opening of their first Connecticut tutoring center in Westport. Grand Opening events will be held from 3 p.m. until 5 p.m.
The workshop, "Getting Into Your Dream College," will be hosted by Mr. Benjamin Yun, the Regional Teacher Trainer for C2 Education. Yun is one of C2 Education's most experienced academic advisors and has helped hundreds of students achieve success on the road to college. He will share unique information about the college admission process, focusing heavily on the things that college admission officers look for in an ideal applicant.
Grand Opening events will begin at 3 p.m. at C2 Education's newest tutoring center, located in the Playhouse Square Shopping Center at 297 Post Road East in Westport, near the Westport Country Playhouse and Westport Post Office.
"Though we have long served students from the Tri-State area, this is our first tutoring center to open in Connecticut," says Mr. David Kim, founder and CEO of C2 Education. "We are thrilled to be joining the Westport community, particularly at such a critical juncture in the academic calendar. As school ends and summer begins, students have the perfect opportunity to catch up or get ahead in advance of the next school year."
The new C2 Education center will provide local students and families with access to a wide range of fully personalized academic programs, including subject tutoring, SAT preparation, ACT preparation, and college admission counseling. This summer, C2 Education will also offer a pair of unique summer programs, a Critical Reading and Writing program for students in grades 4 through 9, and a SAT Summer Intensive Program for high school students. Families who attend the Grand Opening events for the new Westport tutoring center will be able to explore the various program options at C2 Westport with a free academic assessment and consultation (a $120 value) and a savings voucher for up to $1,000 off services at the new location.
During the Grand Opening events, students and parents will have the opportunity to meet with members of C2 Education's academic advising team, including C2 Westport Program Director Nancy Lee, the primary academic adviser for the Westport tutoring center. Lee is a Connecticut local who is uniquely familiar with the education landscape Westport students face. She hopes to leverage this insight in order to help her students excel in and out of the classroom.
"As a program director, I want to help students accomplish things they never even dreamed of," Lee says. "I want to help them see their own potential and strive for ever higher goals."
C2 Education's Westport tutoring center is currently accepting appointments for assessments and consultations. To learn more about C2 Westport, call 203-226-2646.
About C2 Education
C2 Education was founded as an in-home tutoring service run out of a Harvard dorm room in 1997. From those humble beginnings, C2 has grown to include more than 120 tutoring centers across the country, serving thousands of students each week. C2 students enjoy fully customized programs, one-on-one interaction with highly qualified teachers, and the support needed to succeed throughout their educational careers. C2's results speak for themselves: C2 students increase their SAT scores by an average of 360 points, 100% of C2 students pass state standardized tests, and 85% of C2 students go on to attend a top 50 college or university. For more information about C2 Education, please visit http://www.c2educate.com or call (888) 777 – 3889.