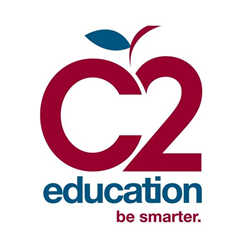 JOHNS CREEK, Ga. (PRWEB) April 01, 2019
To kick off the Spring testing season, C2 Education (C2) the nation's premier network of subject tutoring, SAT®, ACT® and PSAT® test prep and education support centers, is offering local high school students FREE practice tests for the ACT®, SAT® or eight different AP Exams at C2 Centers nationwide during every Saturday in April. Students can prepare for AP Exams in May, the May or June SAT® or the June ACT®. AP Practice Test options include Biology, Calculus AB, Chemistry, English Language & Composition, Psychology, US Government & Politics, US History and World History.
Students who take the C2 practice tests will get a great opportunity to become familiar with the test material and learn where improvements are needed in order to score big on the actual upcoming tests. Students will then receive a free review of the practice test results so they will know exactly how to focus their efforts for the real test.
Space is limited. Register online at http://www.C2education.com/spring and the local C2 Center will contact you to book your testing time. In addition to the free practice tests, all participants will also save 5% on C2 tuition when they enroll.
About C2 Education
C2 Education (http://www.C2education.com) was founded in 1997 by David Kim and Jim Narangajavana, two Harvard students offering private tutoring programs from their dorm room. Now one of the nation's leading Tutoring, Test Prep, and College Admissions Counseling organizations, the company has grown to over 180 centers nationwide serving 13,000 students and their families each week. C2 utilizes a unique approach that combines individualized instruction, customized proprietary curriculum, and dedicated education experts to create a personalized experience that enables students to master their specific tests and subjects. C2 Education is headquartered in Johns Creek, Georgia. Follow the company on Facebook at https://www.facebook.com/c2education and Twitter at twitter.com/C2education.
Media Contact:
Kenny Fried
Email: kfried(at)aboutbwf(dot)com
Phone: 202-468-8200