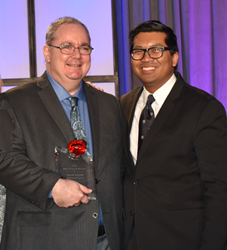 ATLANTA (PRWEB) May 16, 2019
C2 Education (C2), the nation's premier network of subject tutoring, SAT ®, ACT®, and PSAT® test prep and college admissions consulting centers recently presented the 2019 Teacher of the Year Awards at C2's annual National Education Leadership Conference in Atlanta. This year's awards honor teachers who have had an especially life changing impact on C2 students that they work with at their local C2 Center. One finalist was selected from each of four regions in the country, and the four finalists were presented with their honors at the C2 Awards Dinner at the conference. One of the awardees was also named the National Winner.
The 2019 Teacher of the Year Award Winners:
Regional Winner, Southwest Region - Craig Conroy, La Crescenta, California
Craig has become the most highly requested tutor at his center and beside high level tutoring he works with high school seniors on their college essays.
Regional Winner, Northwest Region - Sean Llewellyn, Lynwood, Washington
Sean has worked at C2 for 10 years and has helped students not only in academics but in life. With Sean's guidance, one of his recent student's college essay was featured in Harvard's "50 Successful Application Essays".
Regional Winner, Southeast Region - Elizabeth Lowman, Olney, Maryland
Elizabeth has changed the life of every student she has worked with and has a vast knowledge and expertise in all school subjects.
National Winner and Regional Winner, Northeast Region- Russell Stephen - Nanuet, New York
Russell has been a major positive influence to more than 300 students since he began working at C2 in 2006. He is considered by his peers to be the "C2 Encyclopedia."
About C2 Education
C2 Education (http://www.C2education.com) was founded in 1997 by David Kim and Jim Narangajavana, two Harvard students offering private tutoring programs from their dorm room. Now one of the nation's leading Tutoring, Test Prep, and College Admissions Counseling organizations, the company has grown to over 180 centers nationwide serving over 13,000 students and their families. C2 utilizes a unique approach that combines individualized instruction, customized curriculum, and dedicated education experts that helps students on the path to their dream college. C2 Education is headquartered in Johns Creek, Georgia. Follow the company on Facebook at http://www.facebook.com/c2education .
Media Contact:
Kenny Fried
Email: kfried(at)aboutbwf(dot)com
Phone: 202-468-8200