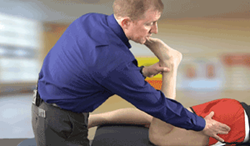 Is it better to run with or without shoes?
Franklin, TN (PRWEB) September 29, 2015
This advanced level PT Continuing Education Course on Foot and Ankle Treatment is designed for clinicians (PT, MD, ATC, DO, DPM, CPed) who have completed the prerequisites listed below and wish to continue to advance their comprehension and functional treatment of foot and ankle disorders. Participants will review static and functional evaluation and screening techniques to guide differential diagnosis and promote thorough treatments with emphasis on forefoot pathologies and more complicated hindfoot disorders. This will include common clinical signs and symptoms of typical presentations, conservative treatments and various surgical techniques for diagnoses ranging from ankle sprains to neuromas.
The participant will learn the advantages and disadvantages of custom foot orthotic utilization, as well as how to appropriately prescribe, assess and modify foot orthotics as well as over the counter shoe inserts and shoes. Dynamic functional testing will be used to determine orthotic and shoe effectiveness thus guide suggested treatment algorithms. This will be performed using the latest literature to guide course participants as well as open forum discussion/labs to maximize didactic learning. Manual therapy labs will focus on only high level techniques such as thrust manipulations of the talocrural, subtalar and midtarsal joints.
This course is unique in its offerings of advanced manual therapy, advanced evaluation skills, as well as specific orthotic recommendations and prescriptions in an organized and clinically applicable format. Tuition includes professional DVD containing Evaluation and Treatment Techniques of the Foor and Ankle.
This course will be presented November 7-8, 2015 at San Ramon Regional Medical Center San Ramon, CA and is 16 hours of California approved continuing education credit for Physical Therapists and Physical Therapy Assistants.