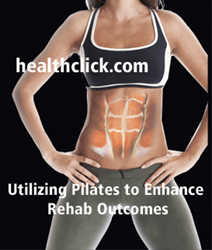 25 hours of pre-approved continuing education credit for PT OT licensed in CA and PA for a total tuition of $589.95
Franklin, TN (PRWEB) July 22, 2014
This two-day Live OT PT continuing education course is designed to help medical professionals gain basic knowledge of Pilates theory and principles and be able to integrate it into their rehabilitation programs. The core stabilizing muscles will be reviewed, as well as how core stabilization is important to functional activities and activities of daily living. The lab portion will be devoted to learning, properly executing, and cueing Pilates mat exercises. Small apparatus, including foam rolls, Swiss balls, and rings, will be used during lab exercises for modifications and advancements. Application of the Pilates principles and exercises will be discussed for orthopedic, neurologic, and geriatric patient populations. Further discussion of case studies and current research will demonstrate how a Pilates-based treatment program can help improve core stabilization, balance, coordination, postural awareness, strength, flexibility, and mobility. Upon completion of this course, the clinician will be able to immediately integrate their knowledge in the clinical setting to provide a Pilates-based treatment program to the orthopedic, neurologic, and/or geriatric patient for improved functional outcomes. This course is 15 hrs for therapists in California and Pennsylvania.
The Online OT PT continuing education course focuses on mastering over 80 Pilates exercise, designed not as an exercise program, but a therapist's tool to master the exercises. Case Studies discuss integrating Pilates into your rehab programs. This online PT OT continuing education course is studio filmed and is not just the live course filmed. Therapists and teams of therapists can take the course and test online and instantly receive a course certificate (requires a 70% passing score). For future reference, a professionally mastered and designed DVD provides access to the online course material and is included with the online purchase. This Online PT OT Continuing Education Course is 10 hours of pre-approved continuing education for therapists licensed in PA and CA.
25 hours of pre-approved continuing education credit for PT OT licensed in CA and PA for a total tuition of $589.95 (DVD shipped to course, instant online access, 2 day live course attendance)
Presented November 8-9 2014 at Good Samaritan Hospital Los Angeles, CA
December 6-7 2014 at John Heinz Institute of Rehabilitation Wilkes-Barre Township, PA
For more information visit http://www.healthclick.com.