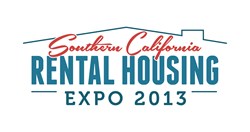 The Expo courses are premium training-critical to helping property mangement professionals face the pressing issues affecting our market today.
Los Angeles, CA (PRWEB) October 17, 2013
The California Apartment Association will present the Southern California Rental Housing Expo on October 29 at the Fairplex and Sheraton Conference Center in Pomona, CA. The Expo will feature 130 booths, industry updates and educational opportunities for property management professionals. An all-day line up of training seminars offers career development and California Certified Residential Manager (CCRM) Continuing Education Credit. Seminar topics include Fair Housing, Evictions, Legislative Update, Economic Forecast, Hoarding, Bed Bugs, among others.
One of the most highly attended seminars, the Economic Forecast/CEO Panel, reveals trends in rents and occupancy, demographics of current and future residents, capitalization rates and advisability of investing in rehab upgrades. The Forecast features keynote speaker Laura Khouri, President of Western National Property Management and the CAA Board of Directors, alongside Steve Pon Tell, President and CEO of National CORE. Laura Khouri stresses the importance of education and career development, sharing "The Expo courses are premium training- critical to helping property management professionals face the pressing issues in our market today."
Confirmed property management companies attending include Alliance Property Management, Allmark Property Management, Bluestar Properties, BRE Properties, Carmel Partners, ConAm Management, E&S Ring, Essex Property Trust, Fusion Property Management, Irvine Company, Lewis Operating Companies, National CORE, NMS Properties, Sares-Regis Group, Starpoint Properties, Statewide Enterprises, Quality Management Group, Western National Property Management, among others. To view complete event details and register online visit http://www.caasocalexpo.com.
About the California Apartment Association (CAA)
The California Apartment Association (CAA) is the nation's largest statewide trade association representing owners, investors, developers, managers and suppliers of apartment communities. Since 1941, CAA has been dedicated to protecting its members' investments through political advocacy in the halls of state and local government, assisting them to comply with new laws and regulations through knowledge and information and educating members on emerging trends, legal issues, risk management and best business practices.
California's most successful property management companies, developers, real estate investment trusts, and thousands of individual independent apartment owners belong to CAA. With more than 13,000 members, representing more than 50,000 owners and industry professionals, CAA is the most respected voice of the multi-family industry in the state.
For more information, visit http://www.caanet.org