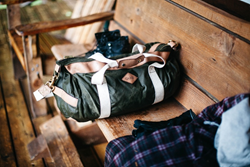 Portland, OR (PRWEB) January 04, 2016
Cabin Collective ended their month-long Kickstarter campaign by raising over $30K and has announced that they will start production of the Cabin Duffle while continuing pre-sales on Indiegogo. The timeless, barrel-shaped bag and interchangeable organizers, called "travel kits," provide travelers and commuters with an everyday duffle built for organization, style and durability.
For those who are always looking to utilize every bit of space they can while traveling, the Cabin Duffle holds four travel kits that stay in place using magnetic snaps that line the inside of the bag. The handles of the travel kits are easily accessible for users and can even be color-coded to maximize organization. Color-coded handles include red, green, orange or yellow. Users can mix and match colors to ensure they always know which travel kit holds their chargers and which ones contain snacks or toiletries.
"It was a very successful campaign thanks to the help of our supportive backers, but we're not stopping here," said project creator Ben Cunha. "We're looking to take the suggestions we received during this first campaign and roll with them to enhance the products we have now and make more products available in the future."
Designed with quality materials, such as thick, genuine leather, cotton webbing and durable brass feet, the Cabin Duffle was built for everyday use. Cabin Collective developed their duffles with a classic, timeless design using an innovative twist on organization and space saving. Rather than removing every item in a bag to find one small charger or gadget, Cabin's travel kits allow travelers to quickly access all of their necessities instead of losing them in their overly packed bag.
The Cabin Duffle, travel kits and Cabin key fobs are now available for pre-order on Indiegogo. Timberland Green or Delta Black Cabin Duffles can be pre-ordered for $79 and additional travel kits can be added for $25. For more information about the Cabin Duffle, visit http://bit.ly/CabinBagIGG.
ABOUT CABIN COLLECTIVE
Based out of Eugene, Oregon, Cabin Collective offers a new line of duffle bags for the adventurer. Inspired by the Northwest and designed with innovative organizational features, Cabin Collective works to design each bag with a vintage look and high-quality materials. Each product works to enhance traveling experiences with a touch of style while also providing lasting durability. For more information, visit http://www.cabin-co.com.