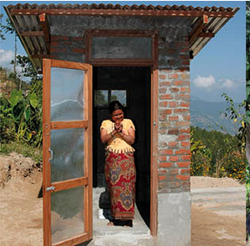 Every house must have its own outhouse and toilet, or the entire village is at risk.
Nepal (PRWEB) November 26, 2013
CabinetHardware.org has launched a new fundraising campaign to help bring toilets to the South Asian country of Nepal, where poor hygiene and sanitation are a major cause of illness and death in the lives of rural villagers and urban slum dwellers. Working with the Israel-based non-profit Tevel b'Tzedek Fund Project to "Build Toilets in Rural Nepal," CabinetHardware.org founder Dave Mason has included the project in the company-sponsored FlowOver Project, offering qualified organizations and individuals an opportunity to earn grant money for their cause.
The Tevel b'Tzedek Fund Project, in part, emphasizes health, hygiene and sanitation as key to improving the lives of Nepal's poorest communities by:
1. Helping communities build toilets. Tevel b'Tzedek builds simple toilets for sanitation, and initiates biogas toilet projects that provide cooking gas directly to village kitchens. To date, Tevel b'Tzedek has organized and funded more than 130 toilets.
2. Training teachers, youth and women in health education. By spreading awareness about subjects such as parasites and worms, AIDs, nutrition, prolapsed uterus and other health problems common to these communities, donors and volunteers can significantly help improve the lives of individuals and whole communities.
3. Providing health camps in conjunction with the Dhulikhel Hospital (http://www.dhulikhelhospital.org) community outreach program, Tevel b'Tzedek aims to bring doctors and nurses to these communities on a regular basis for dental, gynecological and other under-treated medical problems.
"Without functioning indoor toilets, death due to diarrhea or typhoid caused by open air defecation is the second largest cause of death for children in Nepal, as it is all over the developing world," says Micha Odenheimer, Founding Director Tevel b'Tzedek (The Earth – In Justice.) "We can put an end to these deaths simply by making sure each house has a simple outhouse and toilet.
"Every house must have its own outhouse and toilet, or the entire village is at risk," Odenheimer says. "Additionally, public schools often don't have the funds to build separate toilets for girls; as a result, girls are often absent from school or end up dropping out."
Odenheimer says that $100 covers the cost of materials for one toilet plus the cost to educate the family about hygiene, sanitation, and diminishing the causes of disease. Villagers provide the labor and gather stones for the structures.
"Basic sanitation and toilet facilities are something most people take for granted, but in Nepal, its absence is a death sentence for so many people," says CabinetHardware.org founder David Mason. "When you consider that a simple toilet at each home can eradicate the unacceptable mortality rates of Nepal's most impoverished people, the question changes from 'how do we do this?' to 'how soon do we do this?'"
To learn more about the "Build Toilets in Rural Nepal" project and vote to add it to the list of projects eligible for potential funding, visit the Relief Efforts page of the CabinetHardware.org website.
About Tevel b'Tzedek:
Established in 2007, Tevel b'Tzedek (The Earth – In Justice) is an Israel-based nonprofit organization promoting social and environmental justice, whose mission is to create a community of Israeli and Diaspora Jews engaging in the urgent issues of global poverty, marginalization and environmental devastation from a place of deep commitment to the Jewish people and its ethical and spiritual traditions. Tevel b'Tzedek works in three centers in Nepal, helping communities to develop their way out of poverty.
About CabinetHardware.org:
http://www.cabinethardware.org is a combination e-commerce site and crowdfunding platform founded in 2013 by entrepreneur David Mason. Ten percent of every dollar spent on the site is donated to relief efforts to help needy families rebuild their homes after a disaster, and others in crisis. Anyone with a qualifying project representative of a charitable cause can apply for one of the company's relief grants through its charitable arm, the FlowOver project. CabinetHardware.org visitors and customers vote for those grant applications they would like to see funded. No donation is necessary to vote or to purchase products. Customers who do earmark a portion of their purchase price to a cause absorb no cost for their donation. CabinetHardware.org transfers 10 percent of each sale to deserving causes.