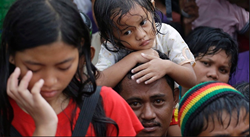 We're offering a way for consumers to place their own footprint on humanitarian efforts in times of crisis.
Bloomfield, Conn. (PRWEB) January 14, 2014
CabinetHardware.org is actively seeking individuals, business owners and organizations struggling in the aftermath of recent natural disasters, to apply for grant opportunities that can help disaster victims rebuild and move forward. Organizations working to improve the lives of victims of long-simmering disasters caused by drought, hunger, disease and educational deficits are also welcome to apply for potential grant money to help establish clean water sources, build classrooms, provide school supplies, build sanitary toilet facilities and make much-needed improvements in some of the world's most impoverished communities.
Through The FlowOver Project, the charitable arm of CabinetHardware.org, founder and CEO David Mason contributes his company's resources to put this first-of-its-kind grant program in place. Online customers can view a summary of current relief projects on the CabinetHardware.org website and choose one that they would most like to see funded. Cabinet Hardware then donates 10 percent of the customer's purchase revenue to the selected project.
For Mason, who ran a clinic that provided legal services to the homeless while a student at NYU Law School, creating a relief fund that offers hope to people in crisis was an important part of establishing CabinetHardware.org's corporate identity.
"The effects of severe natural hazards like hurricanes, tsunamis, floods, earthquakes and tornadoes are something that none of us are immune to, and their impact on the lives of vulnerable populations around the world can overwhelm a community's ability to react and rebuild on their own," Mason says. "Deaths of family members and neighbors, destruction of homes and belongings, and the absence of nourishing food and clean water makes simple survival an uphill battle
"We're offering a way for consumers to place their own footprint on humanitarian efforts in times of crisis."
The causes of natural disasters are often fueled by human activity, including climate change, environmental degradation, population pressure, economic instability, educational deficits and poverty. The frequency and severity of humanitarian emergencies are often established in those populations that are more vulnerable than others.
CabinetHardware.org's FlowOver Project is supporting some of the most destructive natural disasters that occurred in 2012 and 2013, and some of the most neglected humanitarian efforts including:
Typhoon Haiyan, Philippines
Nearly 6,000 people killed and 3.6 million people displaced during Typhoon Haiyan. Long-term efforts are underway to help people in as many as 80,000 households get back on their feet.
Tornadoes, United States
Moore, Oklahoma City, and North Texas experienced devastating twisters that killed dozens and reaped destruction on homes and businesses. Long-term recovery plans include partnering projects between humanitarian organizations and churches to help families rebuild their homes and communities rebuild schools and infrastructure.
Hurricane Sandy New York, New Jersey, Eastern Seaboard
Hurricane Sandy flattened businesses and homes from Manhattan to New Jersey in 2012. JakeaBobs Restaurant, a Union Beach icon, needed to raise $10,000 toward rebuilding. CabinetHardware.org helped raise awareness to the business's plight and provide opportunities for the community to earmark donations for its resurrection.
To learn more about submitting a disaster relief project for possible grant funding consideration, or to contribute your support to the Cabinet Hardware relief efforts, visit the Relief Efforts page of the CabinetHardware.org website.
About CabinetHardware.org:
CabinetHardware.org is a combination e-commerce site and crowdfunding platform founded in 2013 by entrepreneur David Mason. Ten percent of every dollar spent on the site is donated to relief efforts to help needy families rebuild their homes after a disaster, and others in crisis. Anyone with a qualifying project representative of a charitable cause can apply for one of the company's relief grants through its charitable arm, The FlowOver Project. CabinetHardware.org visitors and customers vote for those grant applications they would like to see funded. No donation is necessary to vote or to purchase products. Customers who do earmark a portion of their purchase price to a cause absorb no cost for the their donation. CabinetHardware.org transfers 10 percent of each sale to deserving causes.
###