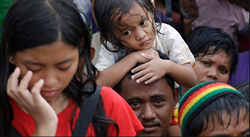 Building something for them won't help if we can't keep them alive.
Bloomfield, CT (PRWEB) January 07, 2014
Just ten weeks after Typhoon Haiyan left 4.4 million people homeless and inflicted $12.9 billion in damages on the Philippines, CabinetHardware.org founder David Mason hopes a recent donation on behalf of his company's customers will help renew awareness of the hundreds of thousands still struggling to survive in what many fear is turning into a "forgotten crisis."
CabinetHardware.org originally joined the indigenous-led, non-governmental organization (NGO) Higa-onon Ha Migsabuwa Ta Lanao, Inc. in the days immediately following the hurricane. The goal was to raise awareness and donations for the highly vulnerable island nation's tribal people who experienced tremendous losses in the storm's aftermath. Eighteen indigenous tribes with unique languages and cultures were left geographically isolated, and they continue to suffer with no food, shelter, clothing or medical aid.
"This road to recovery is going to be a very long one, and funding shortfalls have left the tribal people in an unbelievably desperate state," Mason says. "It's a departure from our normal course of action which is to help with rebuilding after a disaster, but in this case building something for them won't help if we can't keep them alive."
Through its charitable arm The FlowOver Project, CabinetHardware.org offers potential grant opportunities created through e-commerce and crowdfunding to help rebuild lives broken by disasters.
Mason said the donation is enough to provide a meal for 100 Philippine natives.
"Everyday, the Philippine tribal people watch as their families and neighbors die," Mason says. "Without food to sustain them, rebuilding is not something they can even begin to focus on."
"Even though it's only been eight weeks, Yyphoon Haiyan is already delegated to the back of many peoples' consciousness especially heading into the holidays, but these are the times that we really need to show our humanity by helping others, however small a donation we can make."
To learn more about the Tribal Peoples of the Philippines project and find out where to donate, visit the Relief Efforts page of the CabinetHardware.org website, or email ancientculture(at)yahoo(dot)com(dot)ph.
About CabinetHardware.org:
CabinetHardware.org is a combination e-commerce site and crowdfunding platform founded in 2013 by entrepreneur David Mason. Ten percent of every dollar spent on the site is donated to relief efforts to help needy families rebuild their homes after a disaster, and others in crisis. Anyone with a qualifying project representative of a charitable cause can apply for one of the company's relief grants through its charitable arm, the FlowOver Project. CabinetHardware.org visitors and customers vote for those grant applications they would like to see funded. No donation is necessary to vote or to purchase products. Customers who do earmark a portion of their purchase price to a cause absorb no cost for the their donation. CabinetHardware.org transfers 10 percent of each sale to deserving causes.