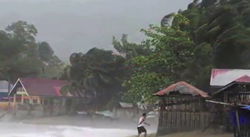 This project is all about saving the homeless, hungry, and hopeless tribes in the Philippines who lost everything in Typhoon Haiyan.
Manila (PRWEB) November 14, 2013
CabinetHardware.org has announced that it has joined the indigenous-led, non-governmental organization (NGO) Higa-onon Ha Migsabuwa Ta Lanao, Inc., to raise awareness and donations for the island nation's tribal people who lost homes, land and loved ones to Typhoon Haiyan.
According to Datu Lanelio T. Sangcoan, Founding Chairman of Higa-onon Ha Migsabuwa Ta Lanao, Inc. in the southern Philippines, the 18 indigenous (lumad) tribes that distinguish themselves with their own unique languages and cultures, are suffering immensely in the aftermath of the storm, trying to survive with no food, shelter, clothing or medical aid.
"This project is all about saving the homeless, hungry, and hopeless tribes in the Philippines who lost everything in Typhoon Haiyan," Snagcoan says. "The storm swept away all tribal properties and farms, leaving them homeless and desperate for help.
"Everyday, the Philippine tribal people are watching their families and neighbors die, and the nightmares are only just beginning for these victims who aren't yet able to think about the loss of their homes and livelihoods; they're just trying to find simple shelter and food to keep their children alive."
Snagcoan reached out to CabinetHardware.org founder David Mason for inclusion in his company-sponsored FlowOver Project, the charitable arm of CabinetHardware.org that combines e-commerce and crowdfunding to offer qualified organizations and individuals an opportunity to earn grant money for their cause. CabinetHardware.org customers are invited to designate 10 percent of the cost of their purchases to any one of the relief projects featured on the company's website, at no additional cost to them. The entire cost of the donation is born by CabinetHardware.org itself.
"Typhoon Haiyan caught all of us unprepared for the massive destruction and loss of life it brought upon the Philippines," Mason says. "These are the events that bring out the humanity in all of us.
"All you have to do is glance at a fraction of the photo and video coverage of this disaster to feel compelled to help."
"We humbly appeal to the hearts and mercy of others to help the needy victims of Typhoon Haiyan, to help them survive," Sangcoan says. "We call on the compassion of those who can offer support through donations just one time to help feed the tribal people of the southern Philippines.
The designations that CabinetHardware.org customers make to Higa-onon Ha Migsabuwa Ta Lanao, Inc. will be used to buy shelter materials and other basic necessities to help meet their needs.
"Your contributions will help those suffering through this calamity, and will be very much appreciated," says Snagcoan.
About Higa-onon Ha Migsabuwa Ta Lanao, Inc.:
Higa-onon Ha Migsabuwa Ta Lanao, Inc. is a Philippines-based, indigenous-led, non-government organization (NGO) that is part of a network of Philippine associations that respond to the needs of indigenous peoples during times of hardship and suffering. Included in the 18 tribal Filipino groups are the Tboli, the B'laan, the Atta, Bagobo, Banwaon, Bukidnon, Dibabawon, Hiqaunon, Kalagan, Mamanwa, Mangguwangan, Manobo, Mansaka, Subanen, Tagakaolo, Trduray and Ubo.
To learn more about the Tribal Peoples of the Philippines project and vote to add it to the Cabinet Hardware Relief Efforts website, visit the Typhoon Haiyan relief page of http://www.CabinetHardware.org.
About CabinetHardware.org:
http://www.CabinetHardware.org is a combination e-commerce site and crowdfunding platform founded in 2013 by entrepreneur David Mason. Ten percent of every dollar spent on the site is donated to relief efforts to help needy families rebuild their homes after a disaster, and others in crisis. Anyone with a qualifying project representative of a charitable cause can apply for one of the company's relief grants through its charitable arm, the FlowOver project. CabinetHardware.org visitors and customers vote for those grant applications they would like to see funded. No donation is necessary to vote or to purchase products. Customers who do earmark a portion of their purchase price to a cause absorb no cost for the their donation. CabinetHardware.org transfers 10 percent of each sale to deserving causes.