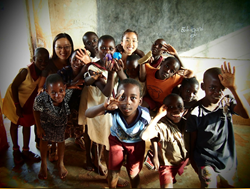 I see Cage Free School as a place where connections are made.
Los Angeles, CA (PRWEB) November 12, 2013
CabinetHardware.org has announced the launch of Cage Free School Initiative with Sylvia Hong, Founder of Cage-Free School in Pacific Palisades neighborhood of Los Angeles. Hong's vision to create a preschool for toddlers that feels like a "home away from home" came from her own deep desire to teach toddlers in a hands-on environment, in which the children will help grow the food they eat in the schoolyard garden, be taught the principles of animal awareness, learn to embrace the power of positive thinking, and head to Kindergarten with a strong foundation.
Hong approached CabinetHardware.org founder David Mason to ask if Cage Free School could be included in his company-sponsored FlowOver Project that offers qualified organizations and individuals an opportunity to earn grant money for their cause. CabinetHardware.org customers can voluntarily designate 10 percent of the cost of their purchases toward any one of the relief projects featured on the company's website with no additional cost to them.
Hong's organic approach to creating a toddler-centric preschool model will focus on eco-friendliness, holistic learning and healthy living, practices that get Mason's wholehearted support.
"Our relationship to the earth has to change," Mason says. "We have no choice.
"I love the idea of creating a school where children learn from the earliest age not just about the necessity of protecting the earth, but the actual skills they'll need to build a sustainable future."
Hong, a preschool educator with more than 12 years' experience, wants to create a "home school environment" for preschool aged children, one that will make parents feel like they are dropping their children off to a relative's home each morning.
"I honestly believe toddlers should be at home in the care of their loving family, but in today's society where most parents work, it's not possible," Hong says. "I was thinking of how to turn a negative situation—dropping your toddler off at an institutional daycare, for instance— into a positive solution.
"I came up with the idea of creating a preschool that feels like a familiar home style environment, where the children are surrounded by educators who love working with toddlers."
Hong plans to create individual rooms for science, art, music, etc., and says she plans to hire teachers with a passion for one particular subject to educate, provide guidance, and feed the children's curiosity.
"I see Cage Free School as a place where connections are made," Hong says. "Where the children say I want to learn to write because I want to write a letter to my friend in Africa.
"I don't want teachers to force children learn the alphabet when they haven't yet made the connection between learning the alphabet and meeting their own needs; I want my students to love school by the time they reach Kindergarten."
Having grown up the middle child of three girls, Hong applies the dynamics of her birth order and relationships with her family to establish her own approach to teaching and guiding the children in her care. Hong believes that age does not define a person's developmental level, and she intends to offer an environment in which each child will learn at their own pace.
"With this in mind, I thought why not create classrooms that blends students from various ages?" she says. "That way the only child, the older sibling, or the younger sibling could experience what it's like being the older, middle, and younger child."
Hong says this method will also solve the dilemma of how best to help children adapt to a new classroom, a new teacher and new friends from one year to the next at such a young age.
"I created a method where this transition works out smoothly," she says.
To learn more about the Cage Free School project and vote to add it to the Cabinet Hardware Relief Efforts website, visit the Relief Efforts page of the CabinetHardware.org website. ( http://www.cabinethardware.org/relief-efforts/cage-free-school-initiative.)
About CabinetHardware.org:
CabinetHardware.org is a combination e-commerce site and crowdfunding platform founded in 2013 by entrepreneur David Mason. Ten percent of every dollar spent on the site is donated to relief efforts to help needy families rebuild their homes after a disaster, and others in crisis. Anyone with a qualifying project representative of a charitable cause can apply for one of the company's relief grants through its charitable arm, the FlowOver project. CabinetHardware.org visitors and customers vote for those grant applications they would like to see funded. No donation is necessary to vote or to purchase products. Customers who do earmark a portion of their purchase price to a cause absorb no cost for the their donation. CabinetHardware.org transfers 10 percent of each sale to deserving causes.
###