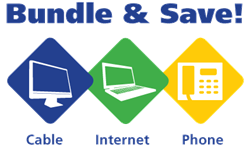 SolveForce Now Offers Real-Time Quoting Tool to search TV, Internet & VoIP phone service providers
(PRWEB) April 25, 2016
SolveForce.com has been rolling out a large campaign offering TV, Internet & VoIP phone (http://www.solveforce.com/) services throughout the US. Now their Real-Time Quoting Tool can search providers of these services effective immediately.
There is a widespread belief in technology circles that bundling of cable TV, Internet & VoIP services will go away now that those products can be distributed à la carte on the internet. The assumption seems to be that bundling is an artifact of another era when distribution was physical. But this reasoning misses the economic logic behind bundling: under assumptions that apply to most information-based businesses, bundling benefits buyers and sellers.
What price should the cable companies charge to maximize revenues? Note that optimal prices are always somewhere below the buyers' willingness-to-pay. Otherwise the buyer wouldn't benefit from the purchase. For simplicity, assume prices are set 10% lower than willingness-to-pay. If ESPN and the History Channel were sold individually, the revenue maximizing price would be $9 ($10 with a 10% discount). Sports lovers would buy ESPN and history lovers would buy the History Channel. The cable company would get $18 in revenue.
By bundling channels, the cable company can charge each customer $11.70 ($13 discounted 10%) for the bundle, yielding combined revenue of $23.40. The consumer surplus would be $2 in the non-bundle and $2.60 in the bundle. Thus both buyers and sellers benefit from bundling.
To learn more about SolveForce's TV, Internet & VoIP phone (http://www.solveforce.com/services) services, visit SolveForce.com.
About SolveForce
We are committed to your company in every aspect of the customer relationship. If your company needs to contact us for any reason, please don't hesitate to call or email us at the earliest convenience.
By Phone: (888) 765-8301
By Email: ron(at)SolveForce(dot)com
By Website: http://www.solveforce.com