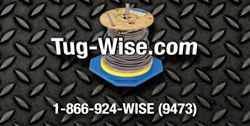 No one should hold out on a job, just so that they can wait for someone else to help them.
Slave Lake, AB (PRWEB) June 25, 2014
Canada-based Tug-Wise Manufacturing is expanding its digital reach to educate consumers on how they can benefit from its revolutionary wire management system.
The proprietary Tug-Wise wire and cable management systems offer a safe and effective way to pull cable without requiring the use of jack stands or reel wagons. Tug-Wise offers high-quality products that can perform at various levels and come in two models that can hold from 500 lbs. to 1500 lbs., and now offers customized heavyweight options that can withstand up to 6,000 lbs. Also, with custom-built orders, any size job is possible.
Jim Emes, founder and owner of Tug-Wise, has been an electrician for over 30 years and came up with a solution to a frustrating mechanical problem. He found that jack stands were simply inadequate for the job, and sought a better way to manage cables. The end result was a well-designed system that solved any wire management problems. Running wires can be difficult to work and set up. Unlike a cable reel stand, which have to be moved and pointed in the direction of every cable pull, all you have to do is fasten the Tug-Wise unit to the bottom of the wooden reel, place it on a flat, even surface, and pull.
"This product was designed with a one-man operation in mind," says Emes. "No one should hold out on a job, just so that they can wait for someone else to help them. Electricians will now have a streamlined, cost-effective way to reel cables, in less time than usual. This solves many problems for electricians, who are used to handling traditional equipment to get the job done."
Though jack stands and reel wagons are the standard, traditional path to take, they come with many cons. Designed to suit a single person or provide multiple solutions on a complex job site, each model features a rugged design to suit simple indoor and hectic outdoor conditions. The cable reel products are highly durable and resistant, and can withstand any type of weather element, helping them last for years.
About Tug-Wise:
Created by founder and inventor Jim Emes, Tug-Wise operates a full service company that's the best in wire and cable management systems. Offering several different spool types, ranging from light to heavy weight, Tug-Wise has the variety and quality to equip the needs of any customer.
Related Search Phrases:
[Tug-Wise Manufacturing] [Jack Stands] [Cable Reel] [Breaking News] [Slave Lake News] [Cable Management System] [Wire Management System]
Related Hashtags:
#Cable #Wires #CableReel #JackStands #Electricians #Electrical #TugWise #BreakingNews #SlaveLake #Alberta