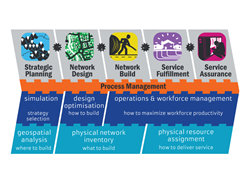 Our solution helps operators avoid the pitfalls of network deployments.
Denver, CO (PRWEB) September 16, 2014
GE, iToolsOnline and FiberPlanIT have joined forces to create an integrated software solution for cable operators needing to drive down their CAPEX and OPEX spend. The solution will be showcased at the upcoming SCTE Cable-Tec Expo in Denver, Colorado.
The SCTE Cable-Tec Expo is the premiere cable telecommunications engineering event of the year and will be held September 22-25, 2014, at the Colorado Convention Center.
The combined solution covers the end-to-end network management lifecycle for HFC & FTTx deployments – from planning & design, through to network build, and on to service fulfillment & assurance.
Chad Smith, Communications Segment Lead – Americas at GE, explains the rationale behind the 3-way collaboration: "If you look at the network management lifecycle, our respective solutions complement each other perfectly; so bringing them together allows us to deliver a more comprehensive end-to-end solution. We've also seen that a lot of the operator's data is common across our respective applications. With out-of the-box integration we're therefore able to give the operator a much more efficient process and greater data integrity."
According to Mark Simon, CEO at iToolsOnline, many network operators are failing to achieve the results they need from their HFC and FTTx deployments. "Network builds are high-risk undertakings," says Mark. "Ill-prepared operators run the risk of overspending - on both CAPEX and OPEX – and failing to achieve the end-user uptake they need to deliver a positive ROI. Teaming up with GE and FiberPlanIT allows us to offer a solution that helps operators avoid the pitfalls of network deployments and make the best financial and operational decisions at each stage of the process."
Luc De Heyn, Business Development Engineer at FiberPlanIT, explains some of the other challenges being faced: "Operators know that upgrading to FTTH is no longer a matter of if, but when. However, with so many architectures and topologies, they're finding it difficult to select the most economical and future-proof network design. With FiberPlanIT, operators can fully prepare their strategic business case and design the FTTH network far more efficiently. FiberPlanIT delivers an 8% reduction in deployment costs and a 90% faster design time, thus enabling an easier switch from cable to fiber."
The integrated solution will be showcased at the GE Digital Energy booth #1115.
GE and Cox Communications have also collaborated on a white paper entitled "Empowering Field and Office Technicians to Improve Customer Experience with Open GIS Asset Management Solutions". The paper will be presented on Wednesday, September 24th at 10:45am.
About GE
GE is a market leader in GIS asset management solutions to telecommunications network operators. GE's Physical Network Inventory platform provides a consolidated end-to-end view of the operator's network. It combines the ability to engineer the fully connected physical network along with service provisioning and capacity planning for the logical network to create a single, robust solution.
http://www.gedigitalenergy.com/Geospatial/catalog/smallworld_network.htm
About iToolsOnline
iToolsOnline provides operations management software for HFC & FTTx deployments. Its cloud-based solution removes the bottlenecks from operational processes, provides automated reporting and allows seamless collaboration between the network operator, its field contractors and customers.
http://www.itoolsonline.com
About FiberPlanIT
FiberPlanIT develops network planning & design solutions for the cable telecommunications industry. Their solutions helps operators maximise the ROI from network rollouts. FiberPlanIT covers the construction of the business case, through to the production of detailed roll-out plans.
http://www.fiberplanit.com