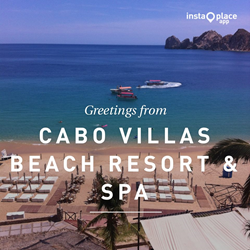 Cabo San Lucas, Mexico (PRWEB) October 02, 2014
Just over two weeks since Hurricane Odile hit Cabo San Lucas, Cabo Villas Beach Resort & Spa opened its doors to welcome back members and guests on September 29. While some areas of the hotel are not 100 percent operational, overall the resort is looking fabulous and is ready to welcome travelers for the high season of travel to Cabo San Lucas.
The resort incurred a fair amount of damage due to Hurricane Odile. However, as soon as possible, more than 150 staff member at Cabo Villas Beach Resort & Spa began repairing the superficial damage that was sustained to the beachfront property. Working tirelessly to repair any and all damage to get the resort ready for the high season of travel, the staff at this luxurious resort has made leaps and bounds of progress beyond what anyone had thought possible in such a short period of time.
In addition, the call center and reservations department at Cabo Villas Beach Resort & Spa is working to accommodate any and all members and guests who were affected by the hurricane. Working outside of normal reservation policies, they are doing everything in their power to accommodate each reservation on a case-by-case basis. The resort is asking for patience in its efforts to make sure that each individual is contacted as quickly as possible.
At this point, the official open date for the Los Cabos airport is October 8, however each airline has their own schedule and timeline. Cabo Villas Beach Resort & Spa realizes that some airlines will not be flying back to Cabo until later in the month and is mindful of that when accommodating its members and guests.
While the resort fared well through the storm, the homes of some resort employees were impacted, sustaining severe damage, losing many valuables and necessities such as food, water, clothing, etc. For this reason, Cabo Villas Beach Resort & Spa set up a Hurricane Odile Relief Fund for its valued employees, who are truly a part of the Cabo Villas family. Those who feel inclined to donate, please visit https://fundrazr.com/campaigns/8ry87 to contribute today.
Cabo Villas Beach Resort & Spa invites vacationers to this beautiful resort in "The Heart of Cabo" to enjoy its amenities, as well as the various attractions and activities Cabo San Lucas is so well known for. Every day, progress is being made, and the city is set for another incredible high season of tourism. Cabo San Lucas continues to shine bright and is eager to welcome travelers back to its sandy shores.
For more information, visit http://www.cabovillasbeachresort.com.