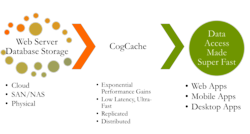 "CogCache gives best ROI by exponentially increasing application performance along with support for multiple language stacks" Rajiv, Program Manager, Cognosys Technologies
Pune, Maharashtra (PRWEB) June 30, 2013
CogCache delivers higher performance by maintaining cache in-memory across multiple load balanced cache servers supporting multiple language stacks, providing lower TCO by helping reduce resource utilization even in heavy loads. Any web application suffers from bottleneck with the back-end RDBMS / storage unable to sustain a load of large number of queries. The numbers of transactions waiting in queue increases reaching a point where the number of concurrent users which can be handled decreases significantly. Spending on additional hardware to solve the problem is not really a good solution as the RDBMS servers reach a plateau while the number of clients which can be handled only grows linearly. In addition to the cost of hardware which is required to handle certain load, the amount of time it takes for a web request cycle to complete is 10 times higher than if the data was locally available. CogCache solves these problems by increasing performance by factor of hundreds giving best ROI, delivering considerable savings on infrastructure. It offers a distributed object oriented cache library that can be embedded in any desktop or web-based application. It comes with a rich set of APIs to support applications written in different languages, with a target to eliminate "chatter" web services which make a round trip to the database server for every request for new data.
CogCache works well with cloud applications with added benefits of scalability and reliability operating a distributed caching layer, where any kind of object can be stored and retrieved without a single point of failure or loss of cache. This layer speeds up the applications by reducing the database load and lowering the total cost of ownership. With a centralized cache system for the entire application, each application layer can be deployed on different web servers, the amount of logically usable cache memory is much more as compared to the individual cache allotted per server. CogCache leverages load-balanced servers to provide tremendous performance enhancement. CogCache is currently used across diverse market segments like healthcare, media services, media asset management, storage, and financial services. CogCache is generic in nature and can be easily plugged into any database centric architecture supporting a wide and open range of tools. CogCache offers much needed scalability and flexibility to accommodate growth with advantages of cloud computing.
About Cognosys Technologies:
Cognosys Technologies is a Red Herring Global 2012 Top 100 Winner, a Global ISV leading in Technical Consulting & Cloud Services leveraging cutting edge technologies to provide software solutions across domains with special emphasis on Storage Services, Media, Finance, HealthCare, ERP/ CRM, high performance cloud / cluster computing, complex event processing, enterprise mobile applications and creative embedded deployments. Combining extensive research with unparalleled experience, comprehensive capabilities across industries and business functions, Cognosys Technologies collaborates with clients to help them become high-performance businesses.