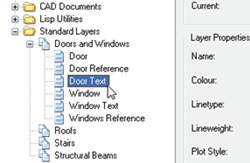 G-Cad was created to make CAD users productive - right out of the box.
(PRWEB) February 28, 2014
CAD Software Distributor, SimpleCAD, announces a recent release to the G-Cad productivity add-on for AutoCAD® and Bricscad Professional, an alternative to AutoCAD®.
Erik Z, Owner says, "SimpleCAD's featured product series, G-Cad was created to make CAD users productive - straight out of the box. We feel it's an excellent add-on for AutoCAD® and are thrilled to offer it within our collection of CAD utilities at SimpleCAD."
The G-Cad solution series offer hundred of drawing tools that can be used for all CAD related industries including engineering and architecture.
The add-on solution includes G-Cad Schedule for the development of schedules and cost estimates from block attribute data and G-Cad Exchange for maintaining layering systems and other CAD standards.
Also within the G-CAD series is a drawing organizer which consists of various tools to help manage and catalog drawings for both small and large offices.
Erik explains, "The drafting series also includes two fascinating products called Block Manager and Line-Type Wizard. With these tools you can instantly publish intelligent block libraries and create complex line-types using existing drawing objects and entities with little effort."
SimpleCAD also offers a stand-alone plugin called the Hatch Manager which allows both AutoCAD® and Bricscad Professional users a way to create custom hatch patterns using familiar drawing entities such as lines, arcs, circles, poly-lines or even symbols. This complete manager also includes hundreds of pre-drawn, industry approved, hatch patterns.
All add ons within the G-Cad series support AutoCAD® 2000-2014 including 32-bit and 64-bit versions and Bricscad Pro V12. Further information is readily available at SimpleCAD.com.
Interested users are encouraged to try a 30-day trial available on SimpleCAD.com.
About SimpleCAD
SimpleCAD was established in January 2010 in Bend, Oregon. Through its development and distribution of award winning add-ons and block libraries for AutoCAD® and LT®, SimpleCAD makes it possible for design professionals to improve their productivity during the design and drafting process.
Email Contact: mail(at)simplecad(dot)com
Phone: 877-933-3929