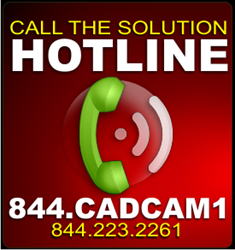 a complimentary guidance coach to help you save time and make better decisions before you cut a check
Austin, Texas (PRWEB) September 25, 2014
Industry-leading manufacturing hub, CAD/CAM Connect, today announced that it is offering visitor's to its site a complimentary guidance coach to help them save time and make better decisions before they cut a check. The new phone "hotline" service adds to its current site offerings by providing a one-stop destination for information on CAD/CAM software and hardware solutions, educational content, forums, user reviews and world-class industry experts.
"From my experience, the research, validation, and purchasing process for design through manufacturing technology is extremely fragmented and time intensive. Companies and individuals are in need of one source they can rely on to streamline this process while covering the majority of their CAD/CAM technology needs, said Ken Wilson, Founder of CAD/CAM Connect. Most engineering-manufacturing technology sites today may only offer one specific piece to the puzzle, whether that's providing content, hosting user forums, showcasing product reviews, listing massive directories of suppliers to pick from or selling a limited number of hardware or software products. CAD/CAM Connect aims to bring all of those elements together into an all-encompassing destination covering the entire design to manufacturing workflow process. We're not tied to any specific product or vendor. We offer choices based on business needs that solve problems, stated Wilson.
"With the addition of our "Solution Hotline", this will further add value and differentiate us from others. Not many sites offer this kind of one-on-one personal support and interaction." "When someone calls in they will speak directly with people who have been in the industry for many years and who understand their business and challenges, said Wilson.
"Ken and his team saved me many hours and dollars surfing the web trying to find products and suppliers who could help turn my paper sketch invention into a reality, said Gilles Hughes. They were responsive, insightful and genuinely interested in helping me out. That kind of follow-up and service is priceless to me especially when speed to market is everything."
"Our goal has always been to help companies solve critical business problems and make it easy for them to research, purchase, and save on CAD/CAM manufacturing products and services," said Wilson. "Building an online destination that aggregates the best suppliers, educational content and experts in one place is what we're all about. We're doing it for CAM and FEA-CFD simulation software, PDM, PLM, ERP, CAD training, reverse engineering, 3D printers, rapid prototyping, CNC machinery, tooling and fabrication equipment and more.
About CAD/CAM Connect
With over 100 years combined experience in the CAD/CAM industry and thousands of engineering and supplier contacts, CAD/CAM Connect partners with top suppliers and industry experts to create a one-stop destination for educational content, leading industry forums and user reviews. The company helps facilitate communications between buyers and suppliers to help mechanical engineers, machinists, design and IT professionals make better purchasing decisions.
For more information please visit the company website at http://www.cadcamconnect.com, or contact Ken Wilson at 844.CADCAM1 (223-2261) or ken(at)cadcamconnect(dot)com.