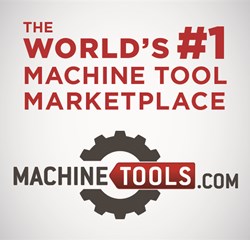 Building an online destination that aggregates the best suppliers, educational content and experts in one place is what we're all about. - Ken Wilson, CAD/CAM Connect
Austin, TX (PRWEB) February 05, 2014
Industry-leading information hub CAD/CAM Connect today announced its partnership with MachineTools.com to further its mission of being an all-encompassing resource for customers. The new partnership is set to expand on current site offerings and provide a one-stop destination for information on CAD/CAM products, services, and vendors, as well as machine tools and fabrication equipment.
Historically, CNC machines, tooling and fabrication equipment and accessories are purchased directly from dealers. Over the past few years, the digital shift has moved the shopping habits of manufacturing companies – along with just about everyone else – to the online space. In turn, the industry landscape is continually evolving.
"We're seeing a trend in the machine tool industry similar to car buying, where people go online to research, buy and sell," said Ken Wilson, Founder-CEO of CAD/CAM Connect. "Buyers can filter by just about any relevant category, which drastically reduces the amount of time spent in the whole process. We want to address that need by making these functionalities available on our site."
The new team-up with MachineTools.com is a strategic move by CAD/CAM Connect, propelling the company into the new year with a strong start. MachineTools.com represents the largest online marketplace for the metalworking industry, featuring over 222,000 new and used listings. The site also hosts a directory of relevant companies, events, consumer reviews, and wanted ads. Paired with CAD/CAM Connect, the duo offers a user-friendly interface for users with a wide variety of needs.
"Our goal has always been to make it easy for buyers to research, purchase, and save on CAD/CAM manufacturing products and services," said Wilson. "Building an online destination that aggregates the best suppliers, educational content and experts in one place is what we're all about. We're doing it for CAM software, ERP, CAD training, reverse engineering, rapid prototyping and now CNC machinery, tooling and fabrication equipment. We selected MachineTools.com because they map up best with our mission of providing buyer's choices on an easy-to-use platform with great customer support."
"We are looking forward to this partnership to expand both our exposure to the CAD/CAM community while creating awareness to the informational assistance CAD/CAM Connect provides," said Stuart Carlin, Founder-CEO of MachineTools.com.
About CAD/CAM Connect
With over 15 years of experience in the CAD/CAM industry and thousands of engineering and supplier contacts, CAD/CAM Connect partners with top suppliers and industry experts to create a one-stop destination for educational content, top industry forums and user reviews. The company helps facilitate communications between buyers and software suppliers to help mechanical engineers, machinists, design and IT professionals make better purchasing decisions. For more information, please visit the company website at http://www.cadcamconnect.com, or contact Ken Wilson at 512.773.1521 or ken(at)cadcamconnect(dot)com.
About MachineTools.com
Founded in 1999 by CEO Stuart Carlin, MachineTools.com has developed into an international online marketplace to buy and sell machines and tooling. The website is the most highly trafficked of its kind in the world, and introduced the industry's first mobile site in 2007. Followed in 2012 by an app for iPhone and iPad, the company continues to innovate and stay abreast of consumer trends. It also boasts a research database currently containing over 222,000 model listings – the only one available in the world. For more information please visit the company website - click here.