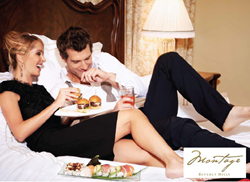 "Our travel specialists have harbored a passion for travel since our beginnings... Travel is still the only lens we see through."
San Diego,CA (PRWEB) February 12, 2015
Cadence was founded in 1995 with just three employees, including Cadence CEO and Founder, Wendy Burk. Twenty years later, the award-winning, internationally recognized travel management company celebrates three divisions, elite status with luxury brands around the world, and a growing team of distinguished travel specialists.
In celebration of the travel company's milestone, Don Jones, Executive Vice President of Sales and Marketing at Cadence, proudly announces Cadence Turns 20: Paying it Forward, a yearlong initiative of giving back in twenty travel-related ways both locally and internationally.
"Our travel specialists have harbored a passion for travel since our humble beginnings," said Don. "While our growth has significantly increased our corporate social responsibility, travel is still the only lens we see through. On that note, we've chosen to focus this year's philanthropic efforts on the industry in which we can leverage the most impact, giving an opportunity for our preferred travel partners and experienced travel specialists to play crucial roles."
Cadence has curated a long list of twenty occasions to be announced throughout the year, from supporting local charity partners to funding international volunteerism excursions to offering chances to win complimentary luxury travel packages.
The travel company's first initiative of the year is a generous giveaway for a two-night stay for two at the glamorous Montage Beverly Hills, a luxury Virtuoso property and loyal partner of Cadence. In addition, the campaign winners will also enjoy free gourmet breakfast each day, a complimentary room upgrade, $100 spa credit, and early check-in and late check-out in, all in the heart of a legendary setting.
"We didn't stop at just two complimentary nights because we wanted our winners to experience the special treatment our clients regularly receive by booking through Cadence," Don explained. "As a National Account of Virtuoso, we are able hold a higher standard of value. This campaign is an opportunity to reward our community while telling the story of our preferred partnerships- about our ability to go further and do more through the relationships we've build along the way."
Cadence specializes in three divisions of travel management: business travel, corporate events and luxury vacations and cruises. To learn more, visit: cadencetravel.com/cadence-turns-twenty.