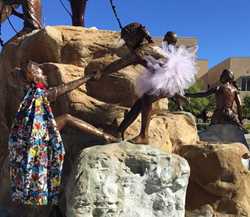 "...every dollar we're raising this year goes further to create a priceless moment of magic for everyone involved."
San Diego, CA (PRWEB) December 04, 2014
Cadence CEO and Founder, Wendy Burk, along with Executive Vice President of Sales and Marketing, Don Jones, announced that the travel company will be giving back to the local community in a very hands-on way this year.
"While we've been fortunate to work with some very heartwarming organizations in the past, nothing is quite like the experience we're creating this year," said Wendy Burk, who has guided the philanthropic efforts of Cadence for the past twenty years. "We're giving our entire network, from industry partners to loyal clients, the opportunity to put smiles on the faces of children by sponsoring, making and personally delivering superhero capes and princess tutus to patients of Rady Children's Hospital."
Don Jones added that the hands-on approach is symbolic of the travel company's overall philosophy. "This year's charity approach naturally aligns with our passion to curate memorable experiences and life changing moments. Part of our success story is that our clients receive more value for their dollar. So, similarly, every dollar we're raising this year goes further to create a priceless moment of magic for everyone involved."
Besides funding innovative technology and structural enhancements, money raised for Rady Childrens Hospital fully supports the positions of Child Life Specialists, who help patients and their families understand and cope with the hospital experience. Their role in translating daunting medical terminology for the fragile minds of pediatric patients enables the children to maintain a positive, brave attitude. Donations of gifts like empowering costumes have proven to be an effective way to keep the children motivated during their fight for survival.
To sponsor a cape or tutu, donate $25 or more to the Cadence Charity Page and a handwritten note will be written on your behalf to accompany the delivery of your gift to a child at Rady Children's Hospital.
Cadence is a full service travel management company located in San Diego, CA. Their highly experienced team of travel specialists specialize in every aspect of travel management, including business travel, meetings and incentives, corporate events, and luxury vacations and cruises.