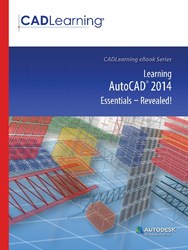 Each lesson includes a complete tutorial.
Bedford, NH (PRWEB) August 07, 2013
4D Technologies, Autodesk authorized publisher and maker of the industry-leading CADLearning products for Autodesk software, has released an enhanced eBook title "Learning AutoCAD 2014 Essentials – Revealed!" The eBook is available for download from iTunes and as a part of the CADLearning eBook Library subscription.
The eBook is designed to be the basis of both self-paced and instructor-led training, and to show you how to use the essential features of AutoCAD® 2014. Featuring 12 chapters with more than 120 lessons the title covers all of the essential skills that you'll need for 2D drawing and editing.
Topics covered in the "Learning AutoCAD 2014 Essentials – Revealed!" eBook include: understanding how tools are organized; creating simple 2D objects such as lines, arcs, and circles; controlling drafting settings; managing layers; controlling object properties; working with complex objects such as polylines; creating annotation objects including text and hatch patterns; modifying objects; dimensioning your drawings; plotting your drawings. View a sample of the book at http://www.cadlearning.com/products/ebooks.
"Each lesson includes a complete tutorial," says David Cohn, Technical Publishing Manager and AutoCAD Subject Matter Expert at 4D Technologies. "You can read up on a topic, clarify further by watching a tutorial by an expert presenter and take a quiz to test your knowledge. You can also try a task or process with an interactive simulation that walks you through the process step-by-step and use exercise files in your own software to make the most of your learning experience."
Visit http://www.cadlearning.com/products/ebooks to learn more about enhanced eBooks by CADLearning and to view a list of available eBook titles.
About CADLearning
CADLearning comprehensive, self-paced professional learning content is designed to maximize performance with Autodesk 2D and 3D design, engineering and entertainment software. This continuously growing library of learning material stays current with the latest software releases for AutoCAD®, Autodesk® 3ds Max®, Autodesk® Inventor®, Autodesk® Maya®, Autodesk® Revit® and more. Users leverage CADLearning for self-paced learning, as an ongoing resource, and as a help tool. CADLearning is developed by 4D Technologies, LLC. Visit http://www.cadlearning.com to learn more.
CADLearning is a registered trademark of 4D Technologies. 3ds Max, AutoCAD, Autodesk, Inventor Maya and Revit are registered trademarks or trademarks of Autodesk, Inc., and/or its subsidiaries and/or affiliates in the USA and/or other countries. All other brand names, product names, or trademarks belong to their respective holders.